2023.05.08 AGITOArchivesCHER&SAPEURG-BRIDGESin shop BLOGJAMNUTS STOREOCEAN'S51T.WORKSTHE MODEイベント情報スタッフ紹介&募集メディア掲載情報一覧
Osaka's most unique vintage clothing store
Next 51
As someone who is passionate about vintage clothing and fashion, I was thrilled to start working at Next 51 in Osaka. My name is Simone, and I am half Japanese and half Danish. I came to Osaka to connect with my Japanese family and learn more about the culture. Next 51 has been a perfect fit for me, as it not only offers a vast selection of vintage clothing but also has a unique atmosphere that makes shopping here a one-of-a-kind experience.
When I first entered Next 51, I was struck by the size of the store. It is one of the biggest vintage stores near Kansai International Airport, full of smaller shops offering a range of fashion items. As I wandered through the store, I was amazed at how each smaller store had its own vibe and atmosphere, with different music and decor. It's clear that a lot of thought went into creating this space, and it shows in every detail.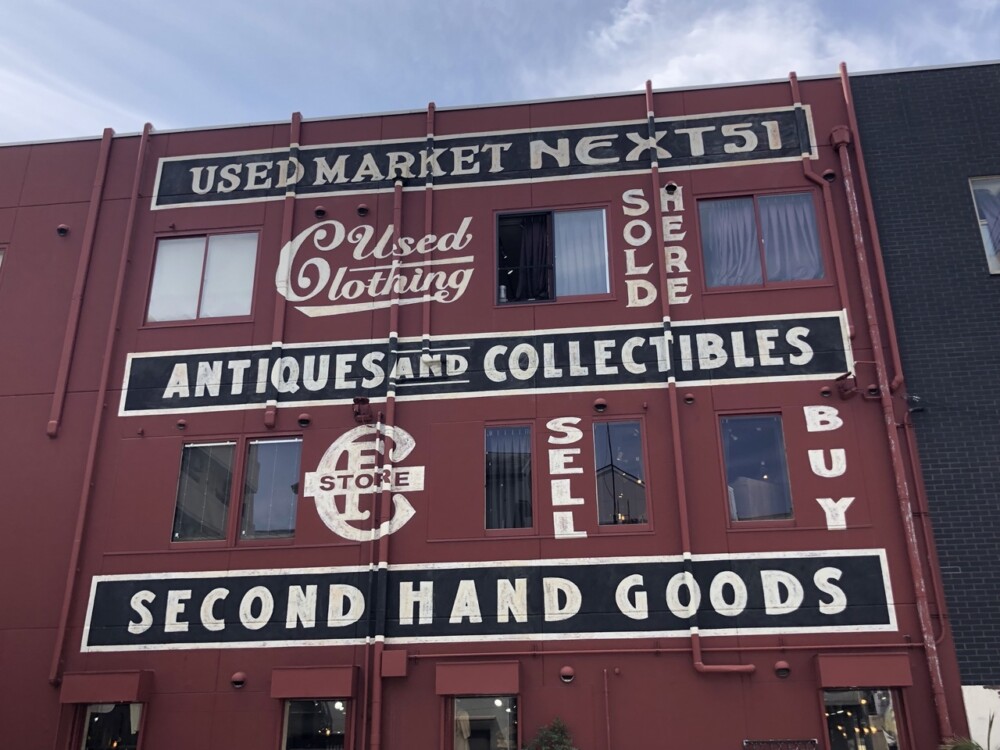 Bakery 51
One of the features I find most unique about Next 51 is the bakery on the first floor. It offers a range of delicious treats, including bread, desserts, and tea, which is the perfect way to take a break from shopping and recharge. It's great to have a place to sit down and relax after a long day of browsing through all the vintage clothing and accessories.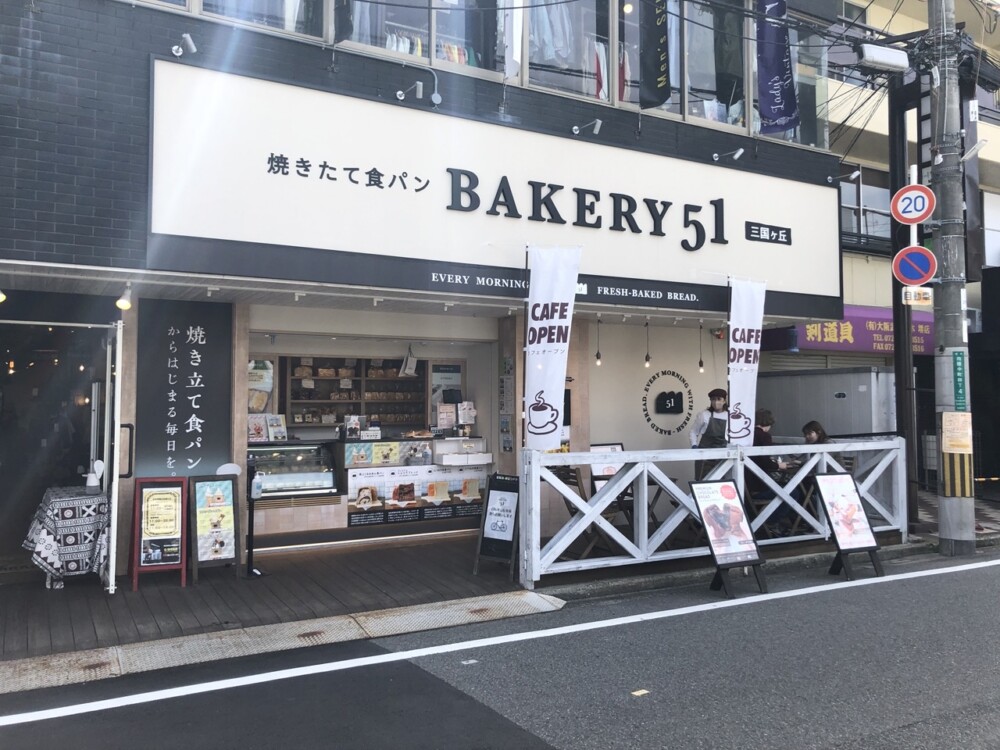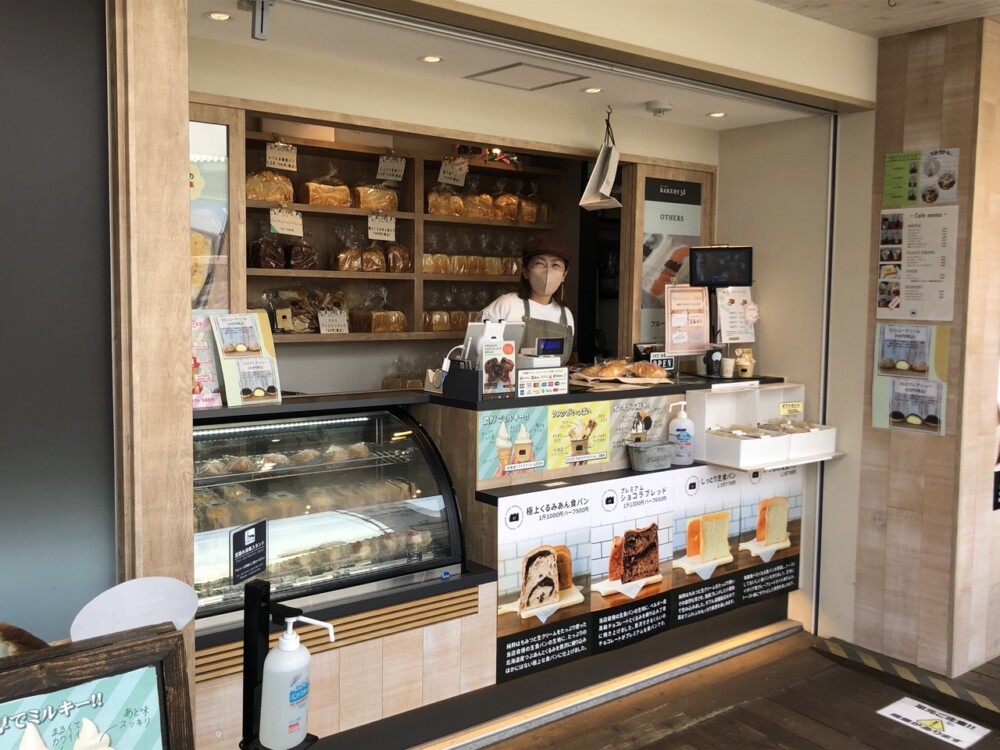 Ocean's. 51
On the left side of the entrance, you'll find "Ocean's. 51" a store that offers a wide range of items for all ages, including select, imported, outdoor, and casual brands.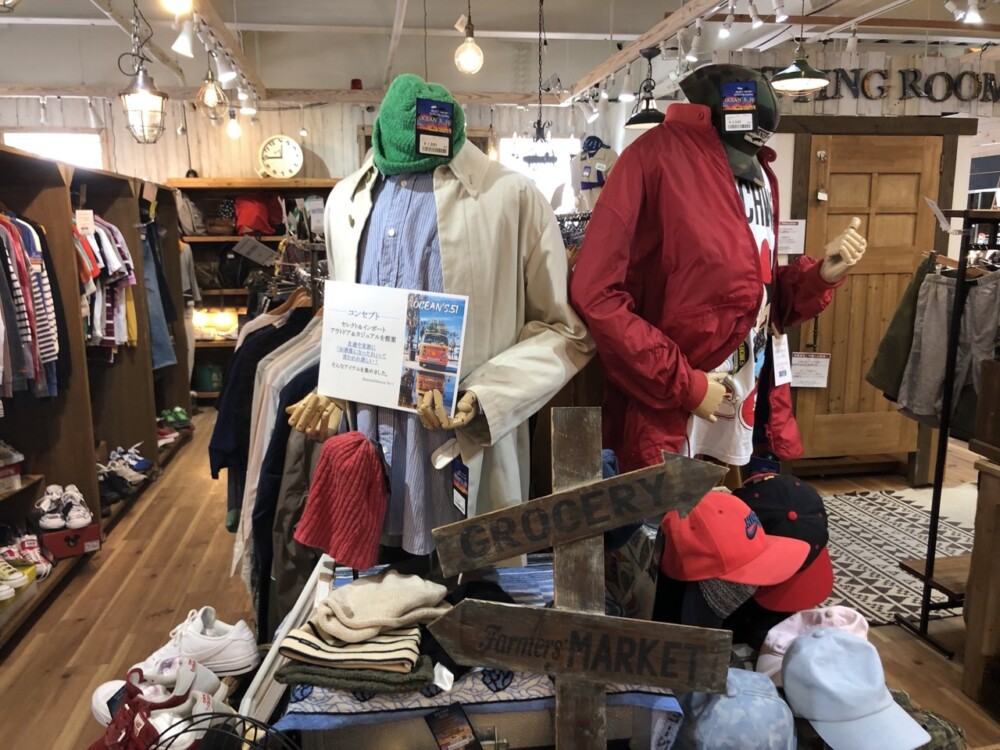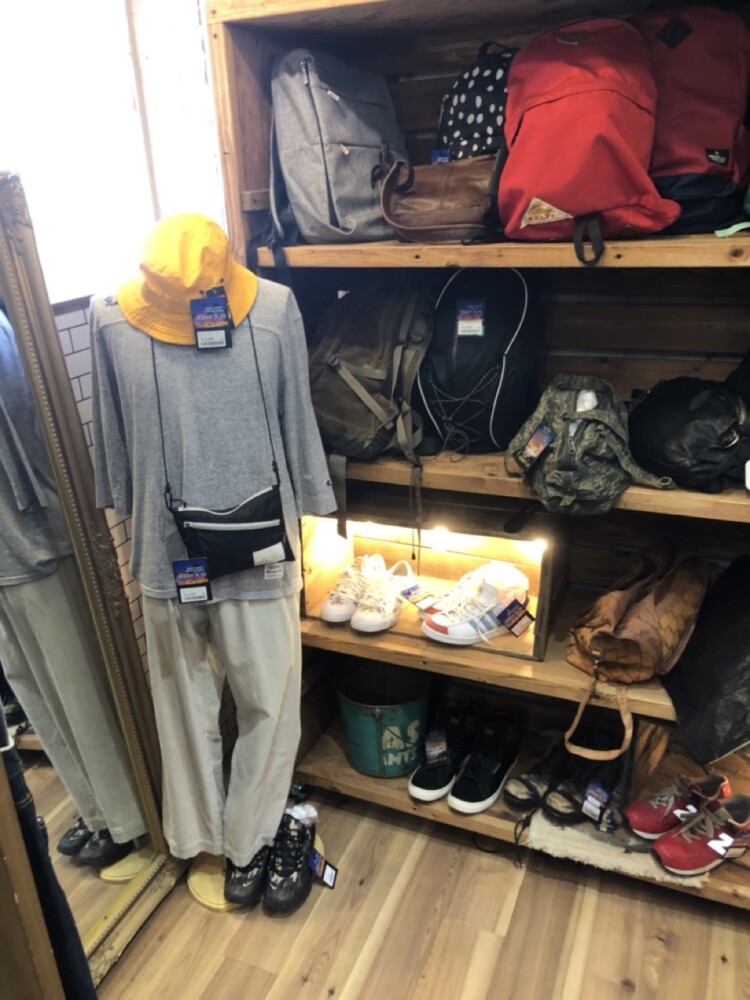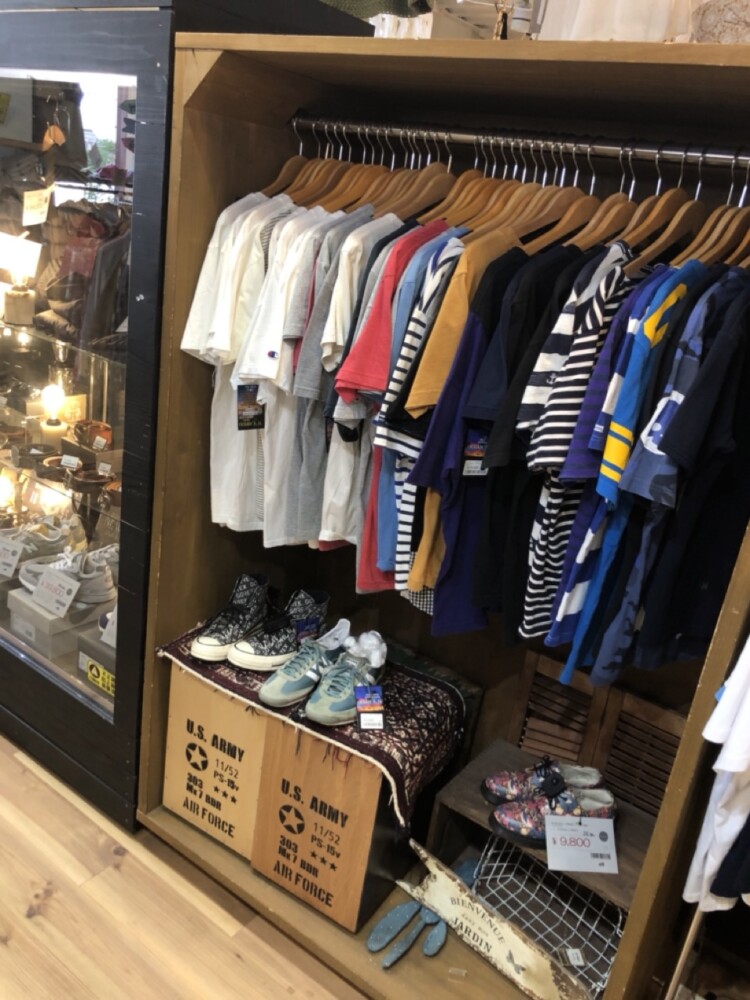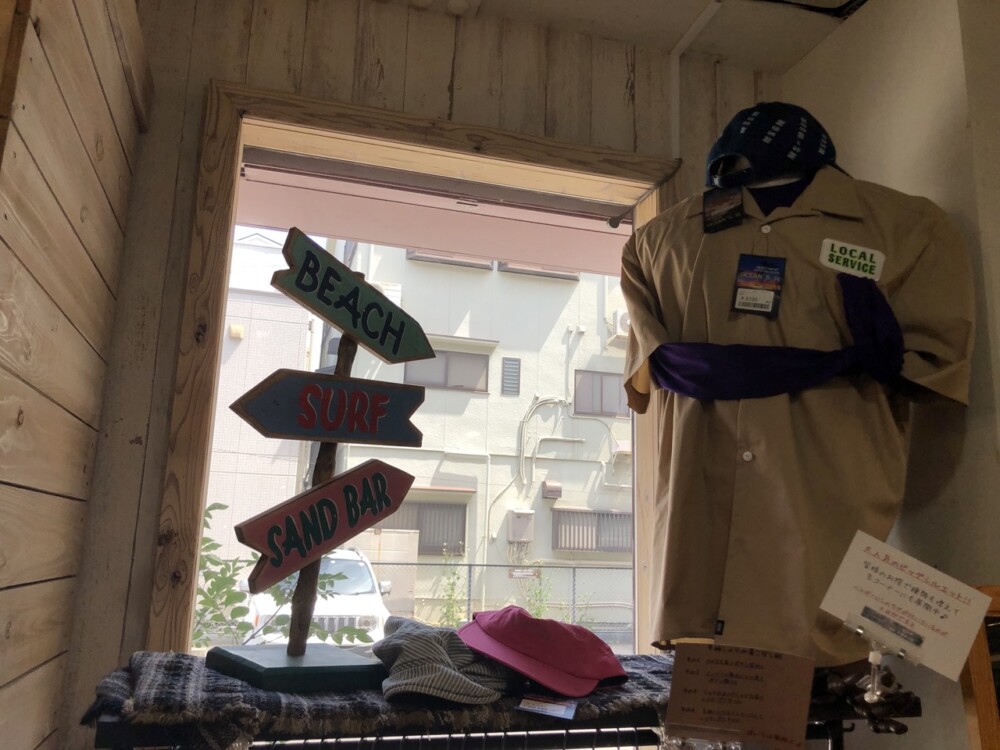 As I browsed through the racks, I came across a black and white striped button-up by Over(all) that immediately caught my eye. The button up was a size L and would therefore make the perfect fit for an oversized cardigan over any basic tank top. Pairing it with a pair of light-washed baggy jeans by Dolce & Gabbana, I found myself embracing a trendy yet relaxed look. The jeans had the ideal amount of "bag" while providing the comfort I sought in my everyday attire.
To complete my outfit, I discovered a black bucket hat by Camp7 and a black-blue backpack by Haglöfs. The bucket hat added a touch of playfulness to my ensemble, shielding me from Japan's sun's rays. Meanwhile, the backpack offered a practical and fashionable solution to carry my essentials, with its classical design and sturdy construction. Overall, I was thoroughly impressed with the items I tried on from Ocean's. 51.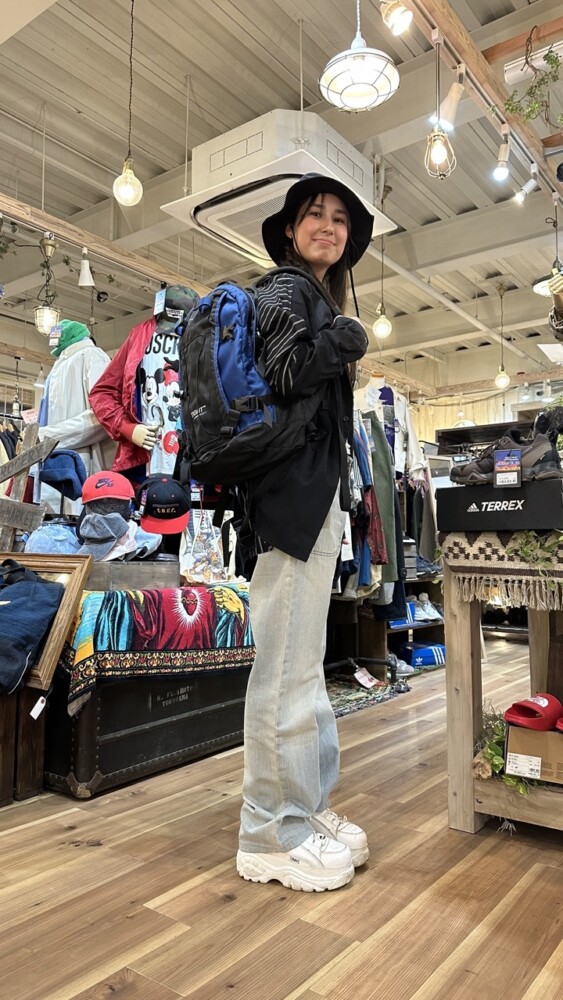 Outfit consisting of clothes from Ocean's. 51:
Top: Black-white striped button up by Over(all)
Bottom: Light-washed baggy jeans by Dolce & Gabbana
Accessories: Black bucket hat by Camp7 and black-blue backpack by Haglöfs
Moderna
Behind "Ocean's 51" is "Moderna" a shop that caters to women in their 30s and above. Based on the concept of "real clothes" and a natural lifestyle, "Moderna" incorporates high-quality linen material and the basic design of office casual into their clothes, making them perfect for daily wear.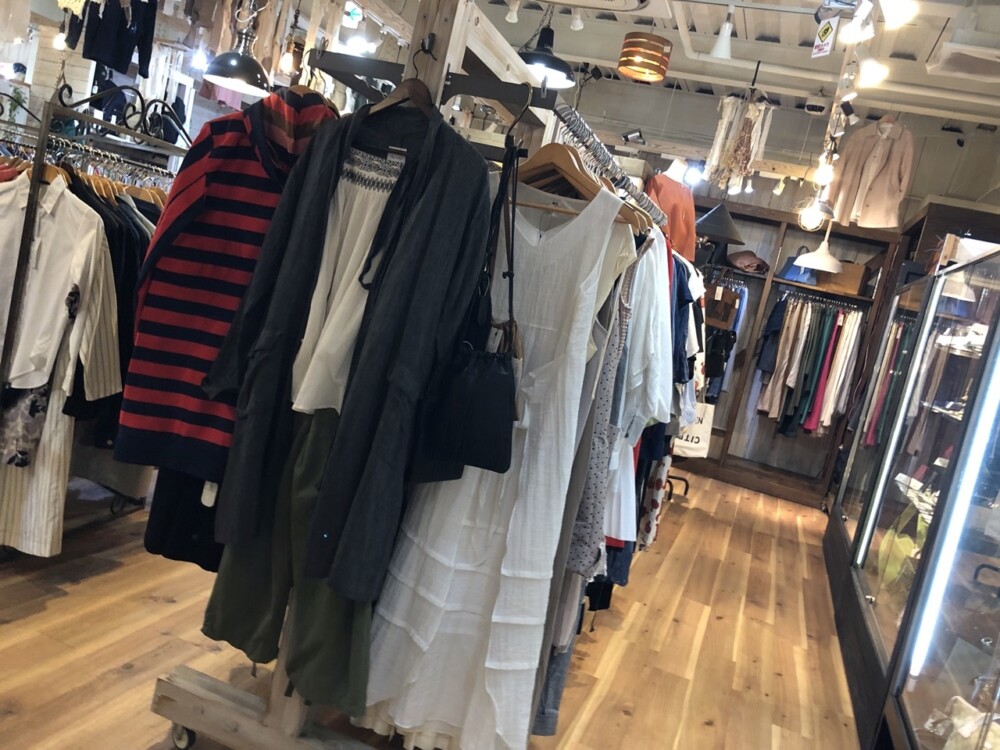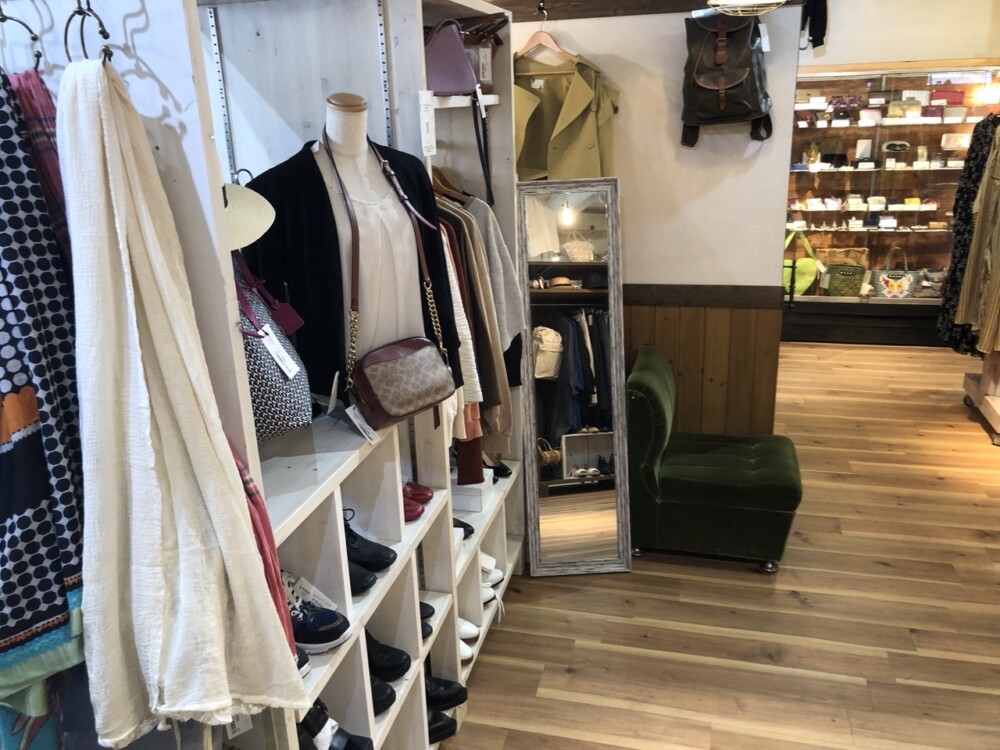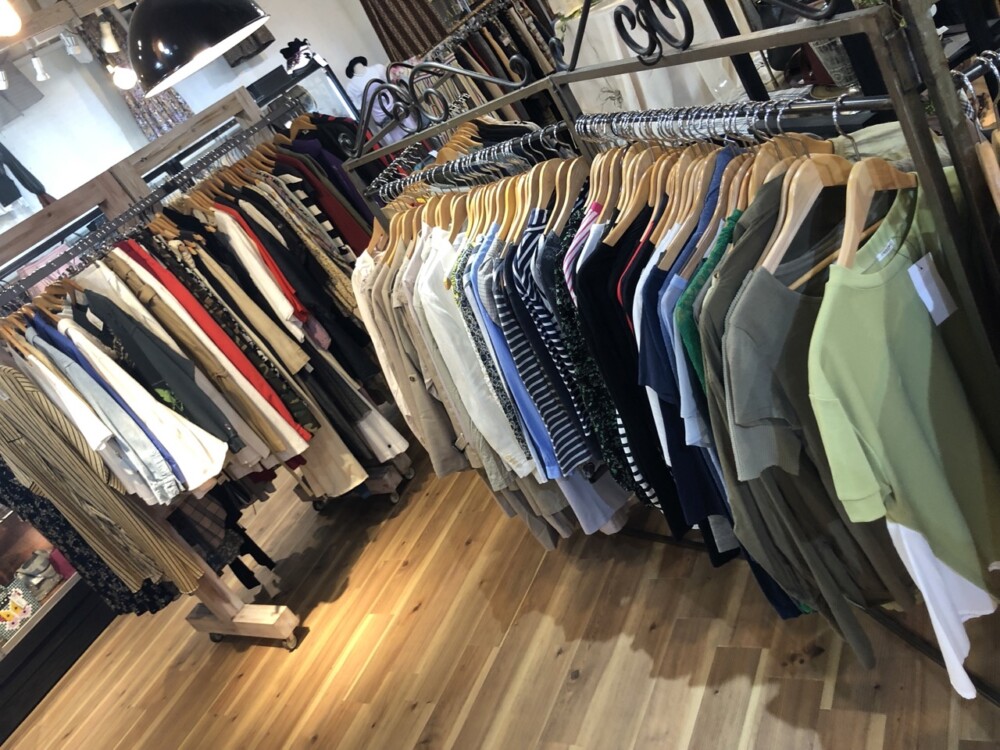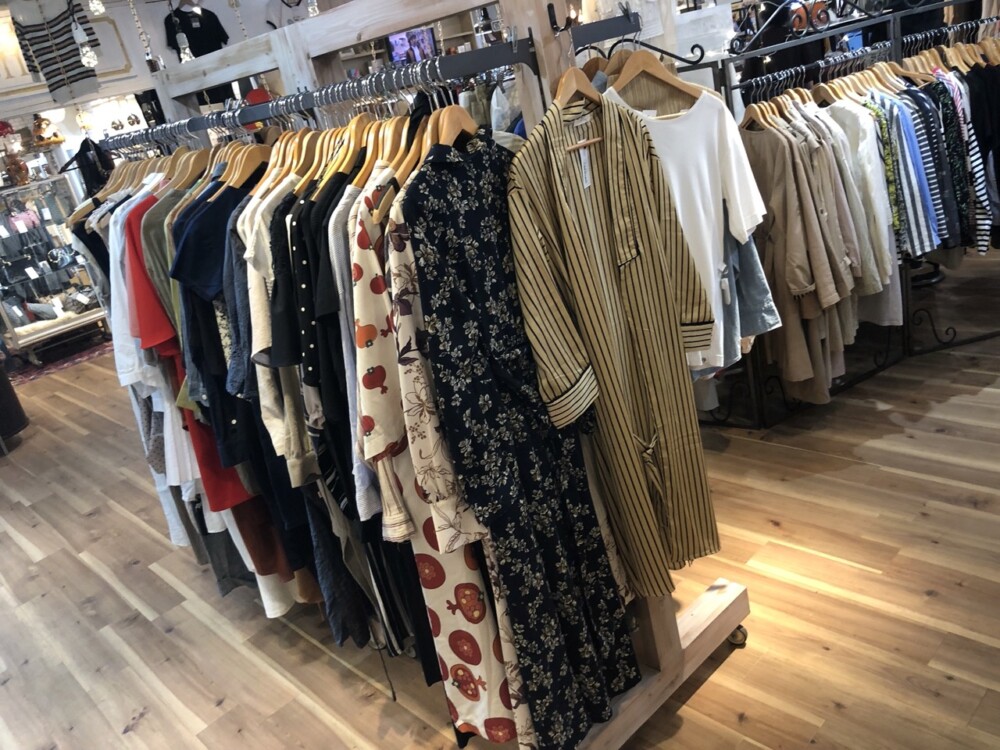 Even though I am still in my 20's I did find a lot of exceptional items inside Moderna. The moment I tried on the outfit I selected, I fell in love with it. The white knitted top by Ralph Lauren exuded elegance and comfort, hugging my body in all the right places. The top would be a good basic that could be paired with everything. I paired the top with the stunning gold maxi skirt by Dussel Printz, that flowed beautifully with every step, making me feel feminine and confident. To complete the ensemble, I accessorized with a cylinder-shaped straw purse by Kate Spade, I felt like I was ready for an aesthetic picnic. I couldn't have been happier with my Moderna finds, as they effortlessly embodied my personal style.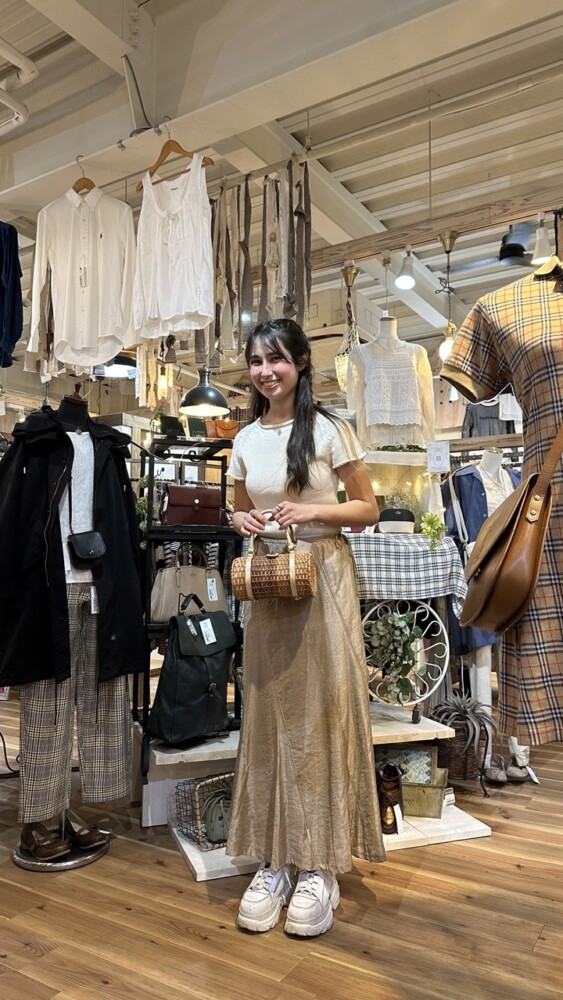 Outfit consisting of clothes from Moderna:
Top: White knitted top by Ralph Lauren
Bottom: Gold maxi skirt by Dussel Printz
Accessories: Cylinder-shaped straw purse by Kate Spade
Lady's vintage shop Cher
On the right corner of the first floor is the "Lady's vintage shop Cher" which focuses on vintage clothing from the 40s to the 80s. They particularly value the bewitching image of the 60s and 70s, and they have a wide variety of vintage clothing from that era. For women who lived during those days, it's nostalgic, but for women in the present, it's fresh and new.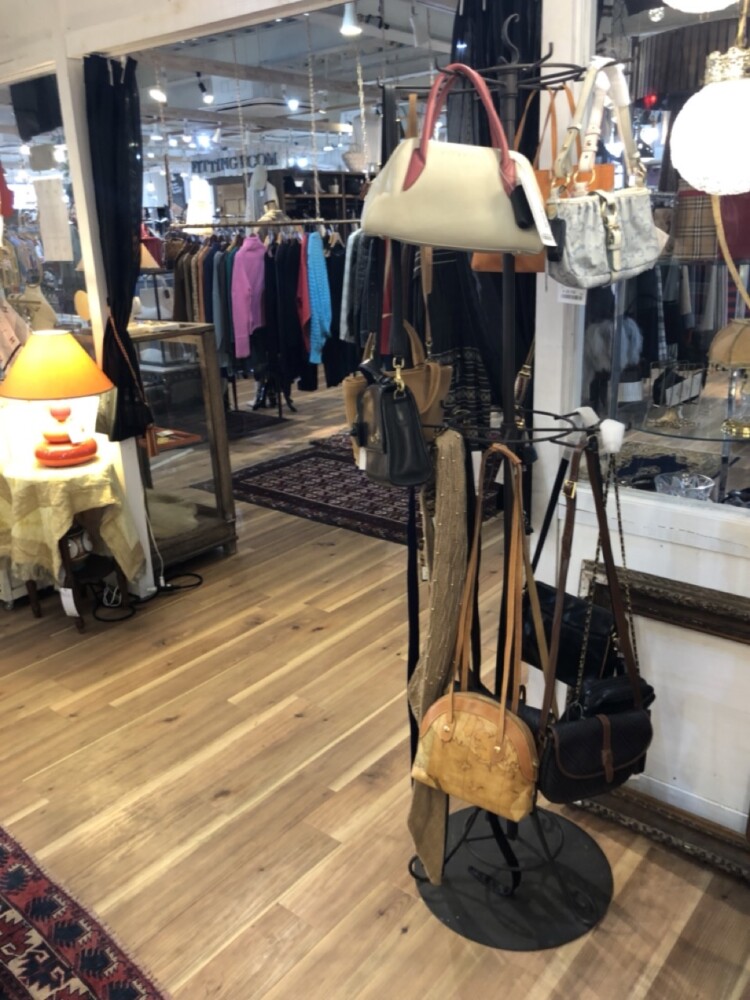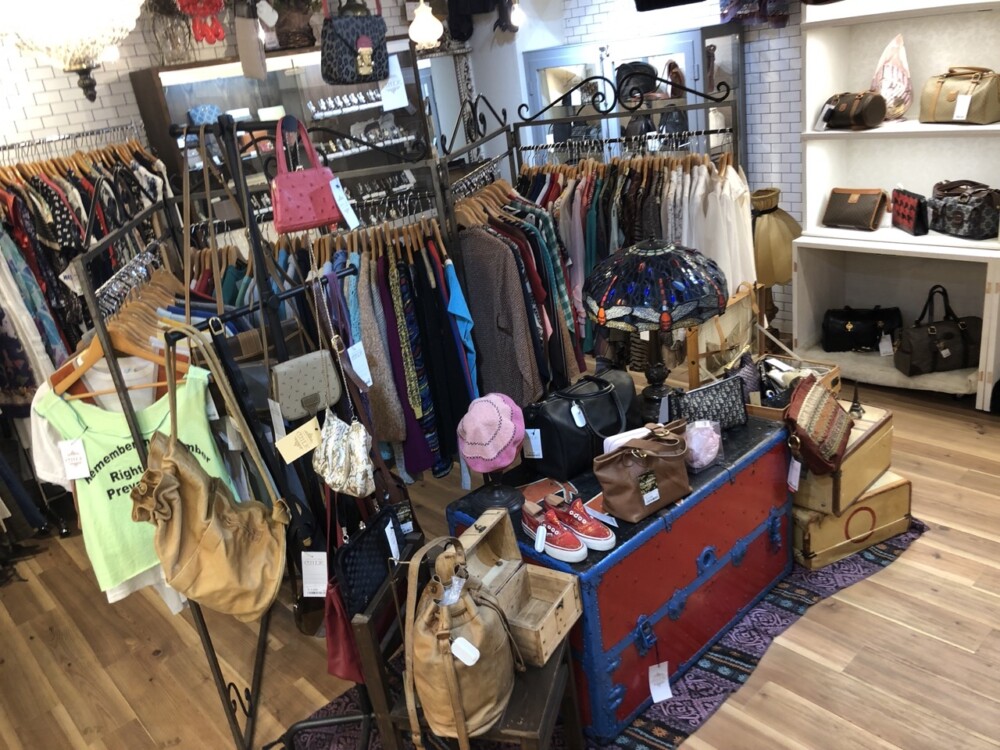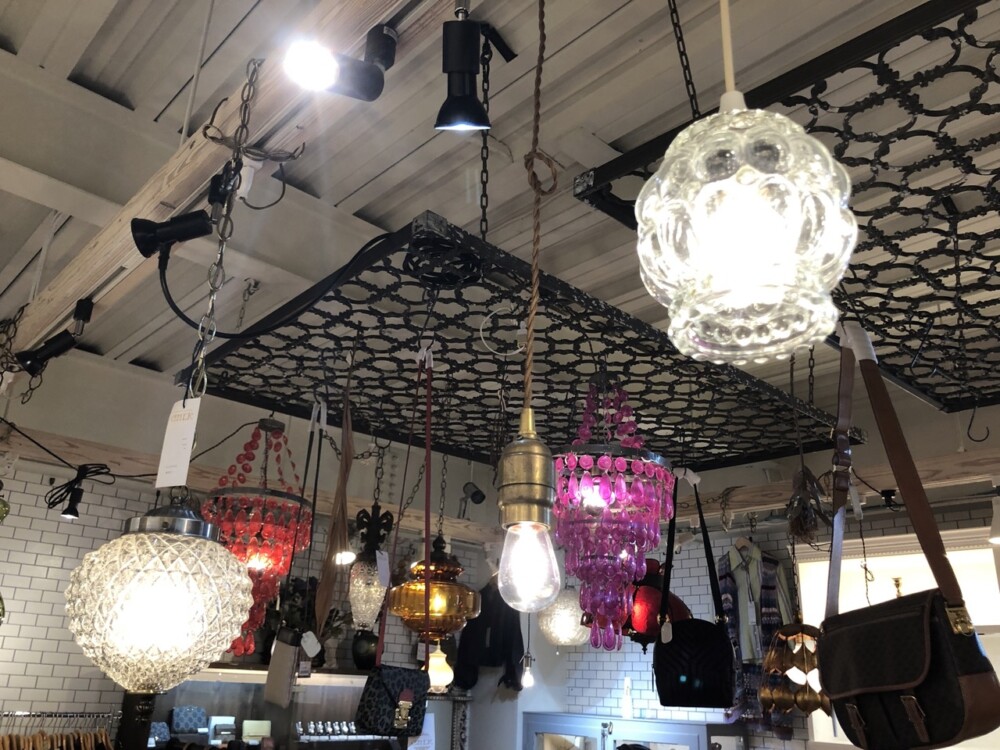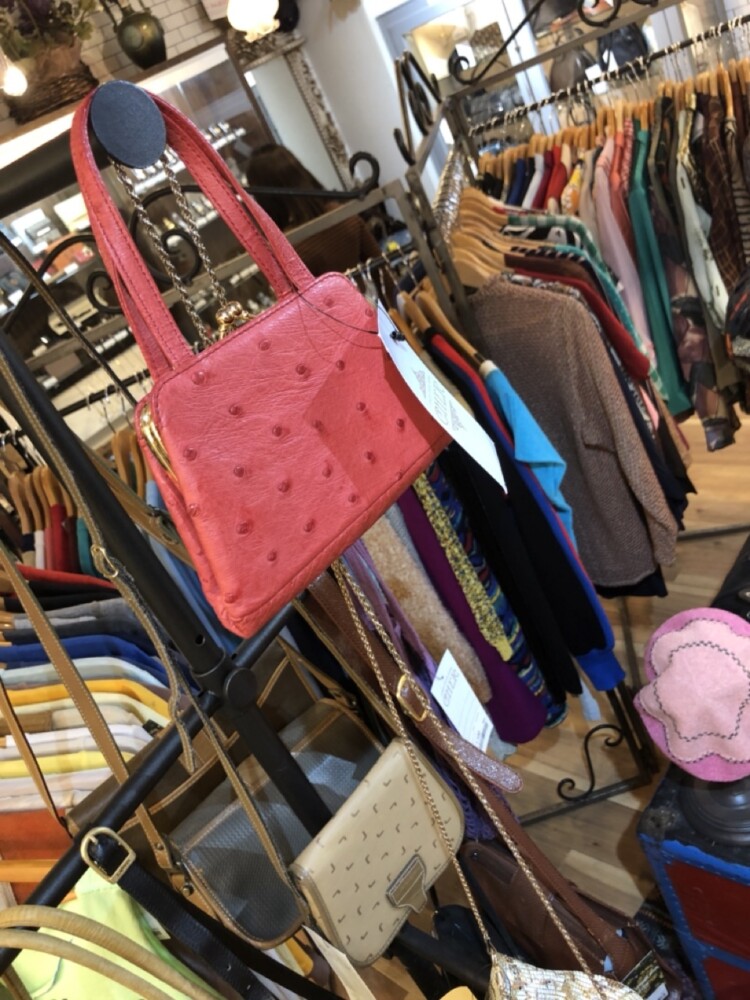 For me personally, stepping into Lady's vintage shop Cher was like entering a whimsical time capsule. The outfit I found there perfectly encapsulated my style preferences – a playful and vibrant ensemble. The colourful knitted sweater had an irresistible charm, with its fun hues and unconventional knits. Paired with the blue overalls by Pionier, it exuded a youthful, carefree spirit. I have always adored overalls, and finding a pair that perfectly complemented my style was a true delight. The items I discovered at Lady's vintage shop Cher were truly one-of-a-kind, embodying a unique and elusive quality that is hard to come by in modern fashion.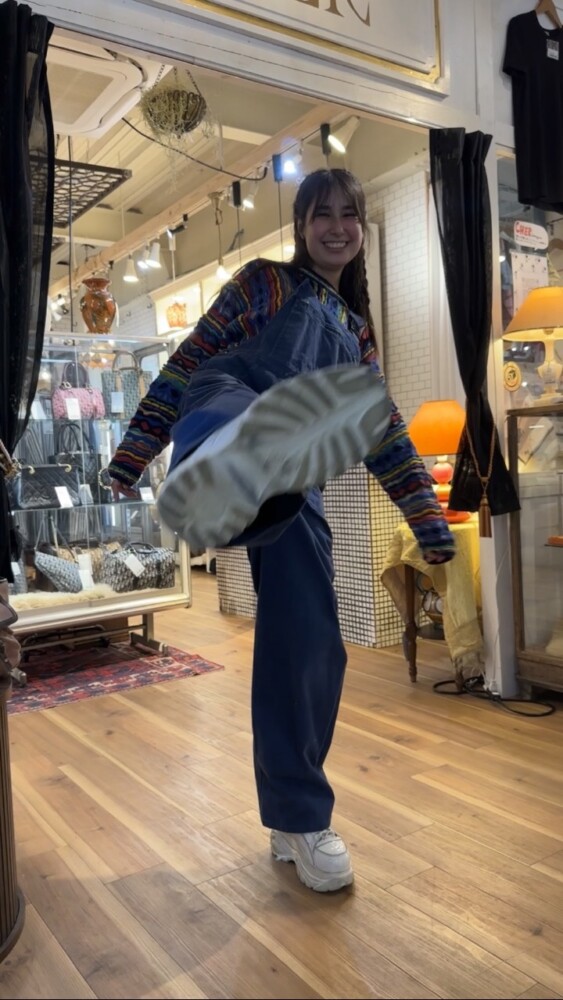 Outfit consisting of clothes from Lady's vintage shop Cher:
Top: Colorful knitted sweater
Bottom: Blue overalls by Pionier
Agito vintage
As you make your way up to the second floor, you'll find "Agito vintage" on the left. This shop specializes in vintage workwear and military wear, and they have items from the early 1900s to the 1990s.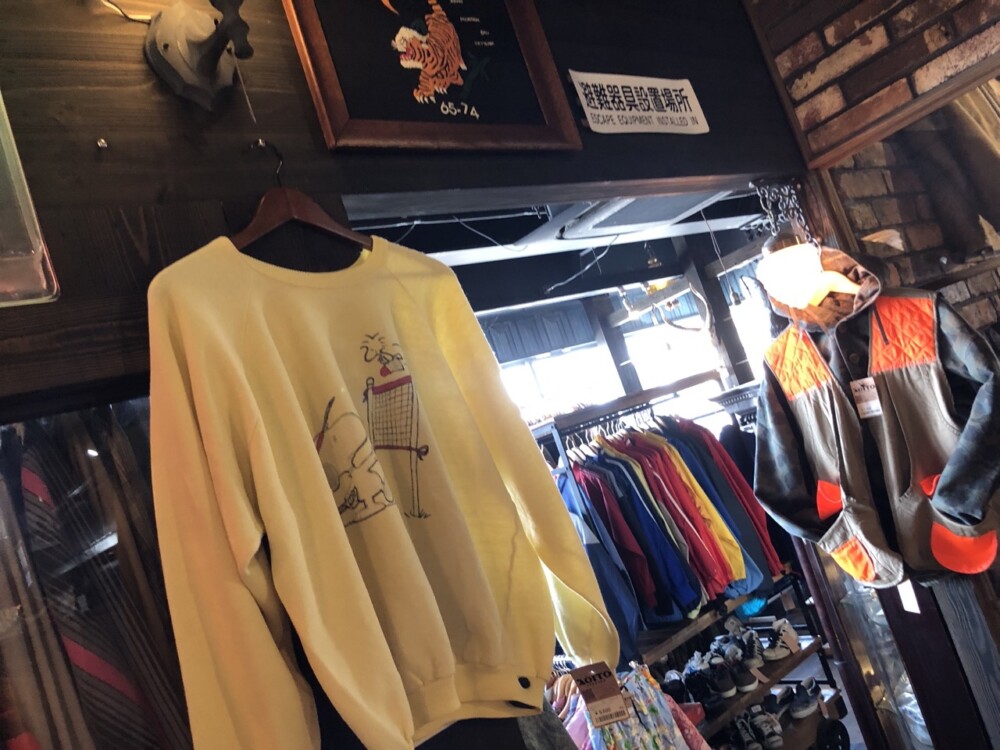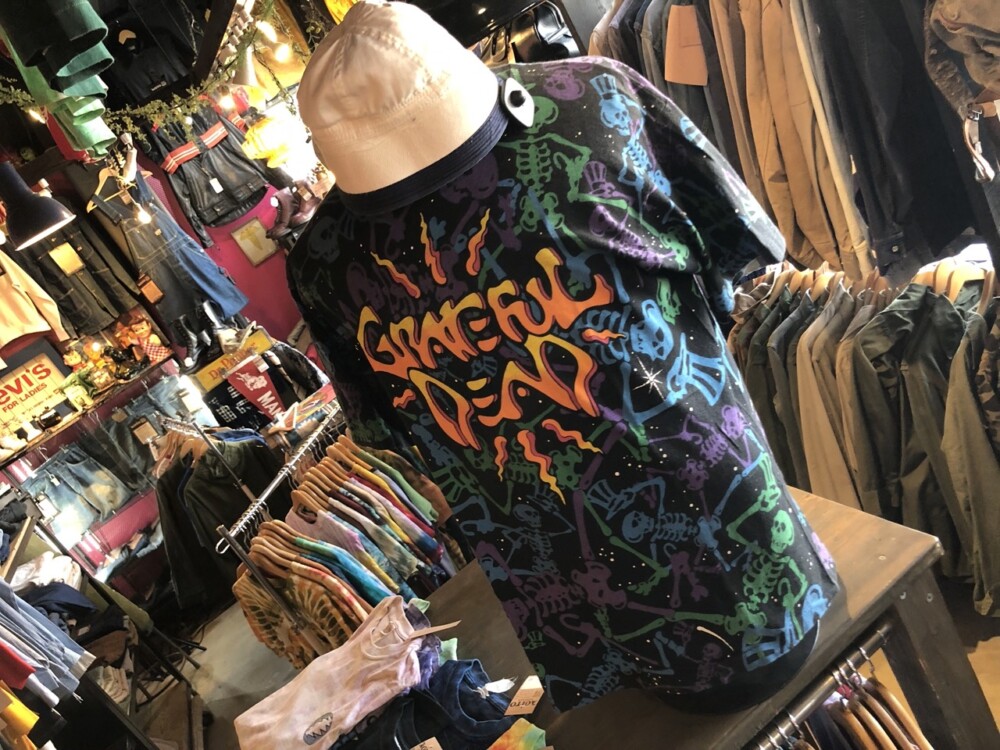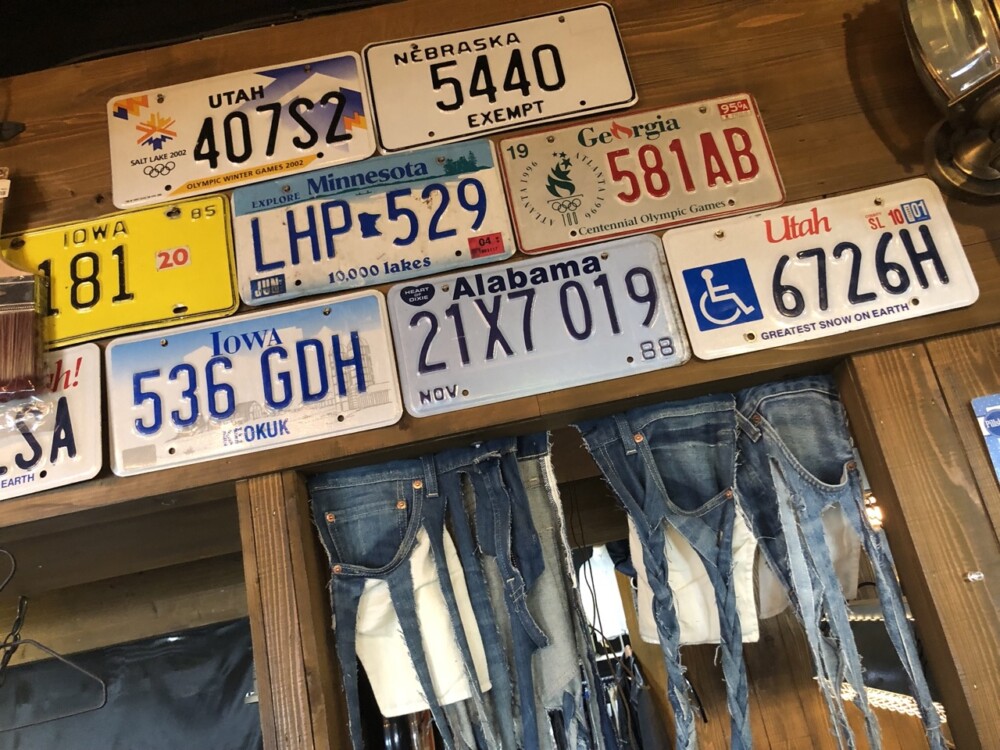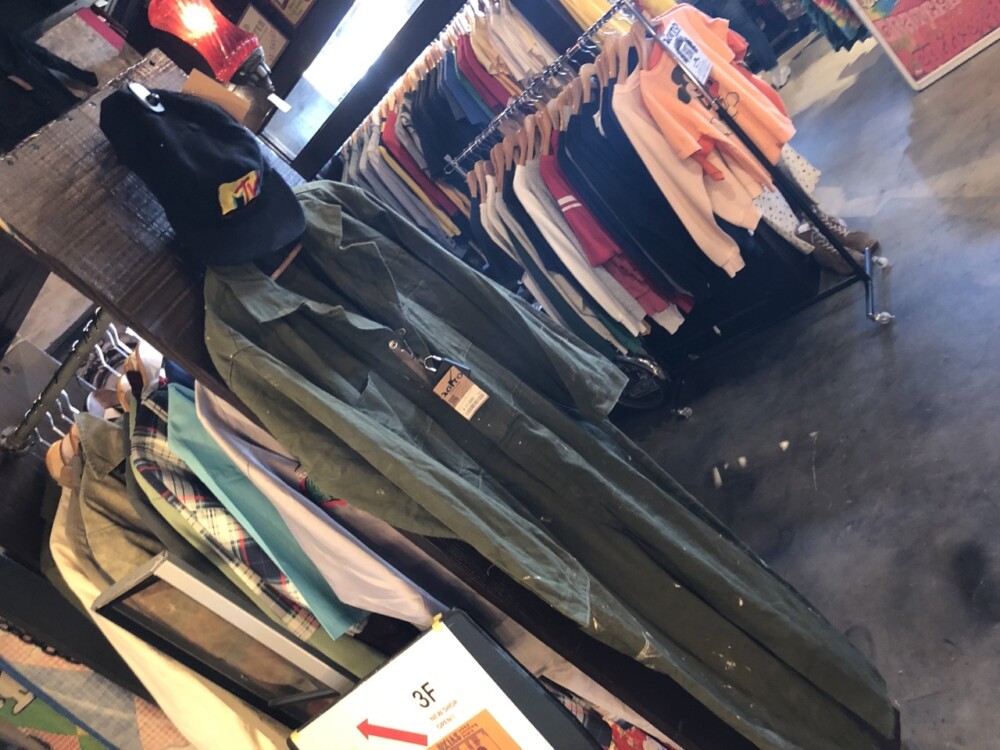 As I wandered into Agito Vintage, my eyes were immediately drawn to a vibrant purple printed t-shirt hanging proudly among the other nostalgic gems. Its quirky design and bold colours perfectly captured my love for eccentric prints, making it a must-have addition to my wardrobe. The quality and condition of the shirt were impeccable, a testament to Agito Vintage's dedication to sourcing authentic and well-preserved vintage garments.
Just when I thought my search couldn't get any better, I stumbled upon a pair of flare jeans by Levis, a coveted find in the streets of Copenhagen. Good-fitting flare jeans are notoriously hard to come by, but as I slipped into them, I was greeted by a sensation of sheer satisfaction. The jeans hugged my body in all the right places and accentuated my figure flawlessly. It was as if they were made for me.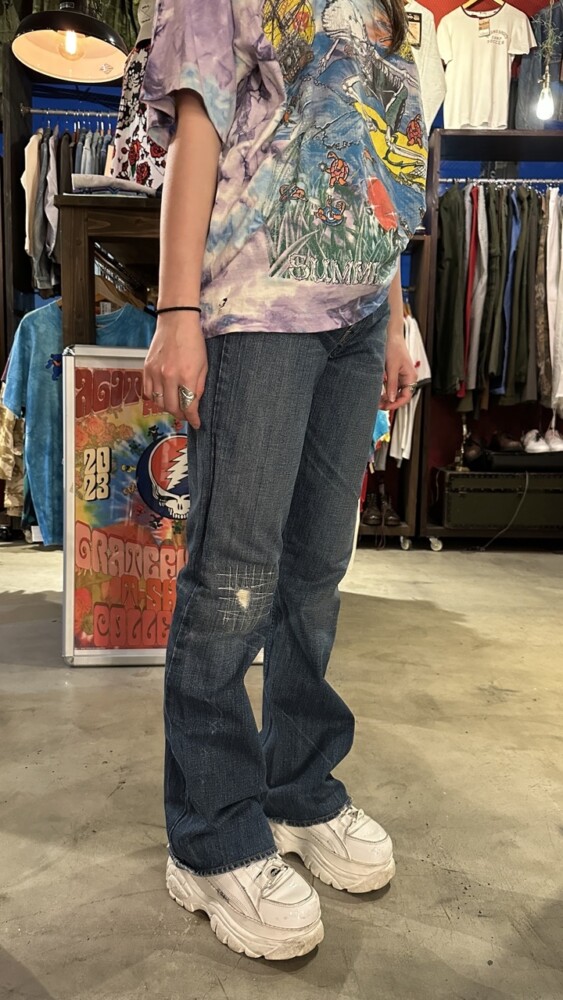 Outfit consisting of clothes from Agito vintage:
Top: Purple printed t-shirt
Bottom: Flare jeans bt Levis
Jamnuts the Homie
On the opposite side of "Agito Vintage" is "Jamnuts the Homie" which is a street shop that mixes music, art, and fashion based on 90s street culture. They not only sell apparel but also records, CDs, and DJ equipment related to music culture.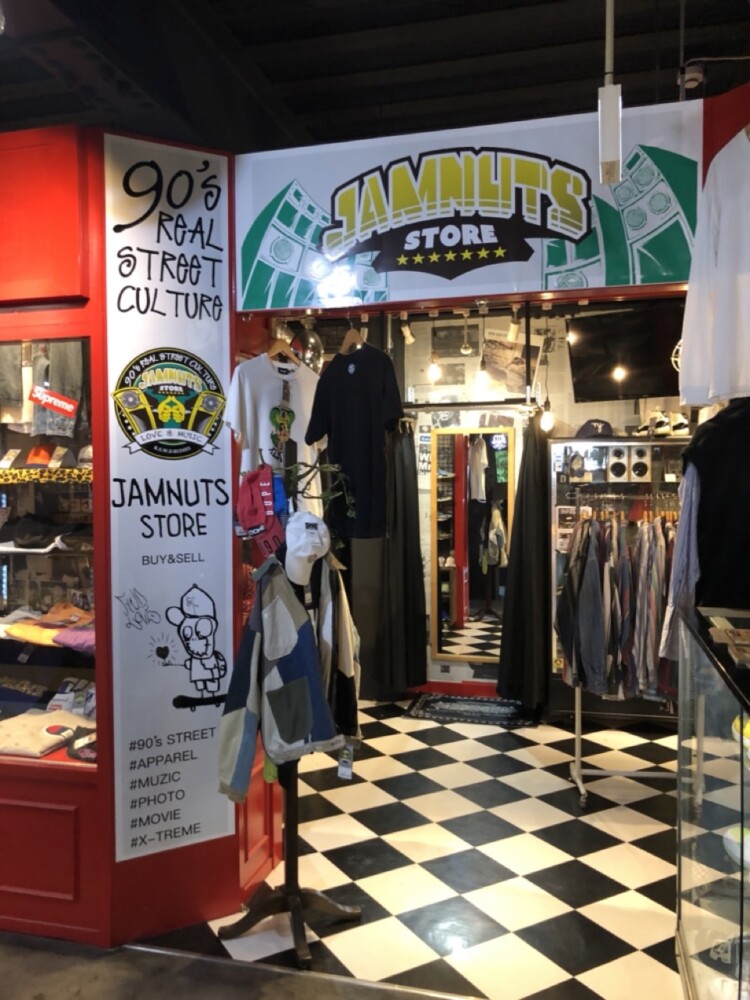 Design for Living
Right beside "Jamnuts the Homie" is the shop "Design for Living". "Design for Living" consists of items from masterpieces called brand archives of famous designers who have come up with numerous concepts and philosophies for current products. An underground and avant-garde brand that continues to take on avant-garde challenges. A brand that still follows tradition and creates classical products even in the modern age where technology has developed.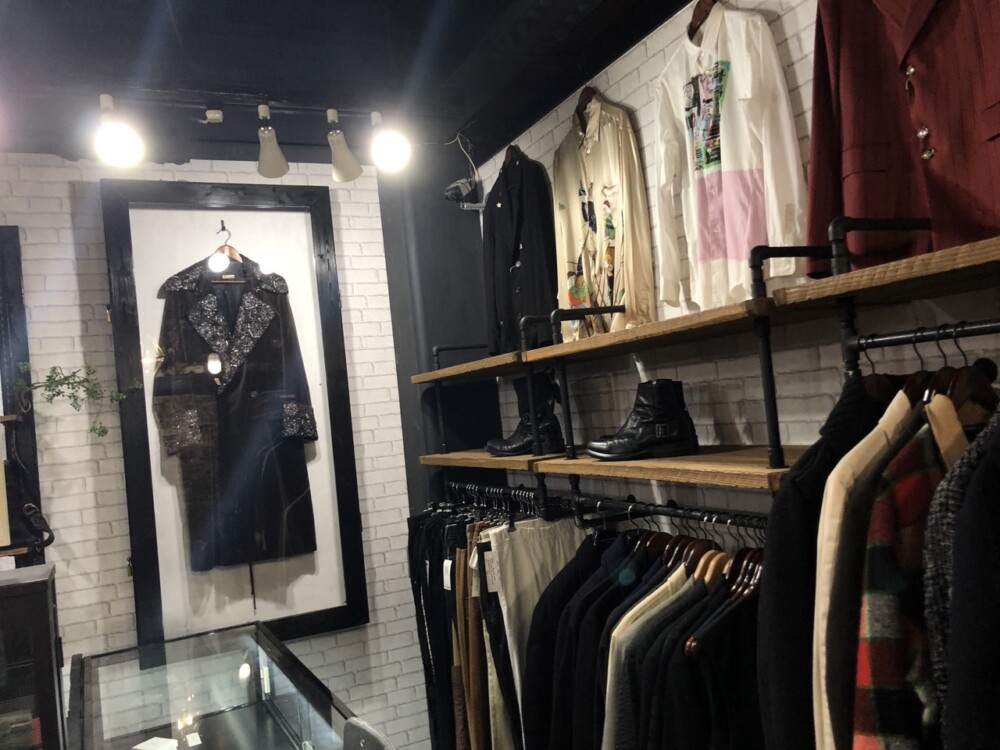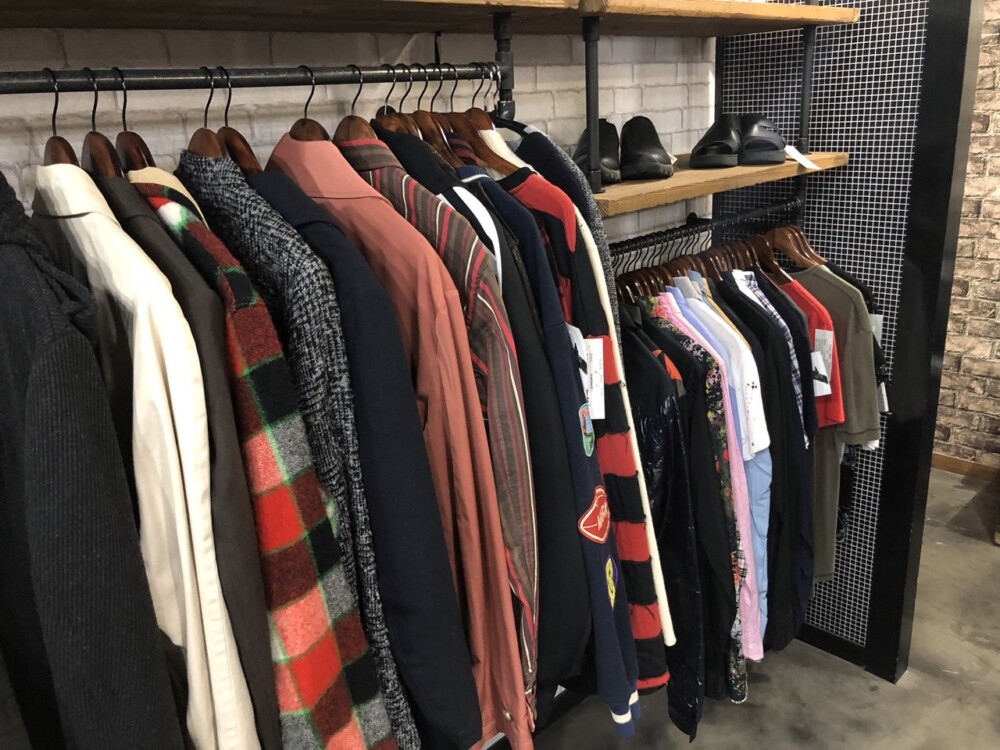 I had the opportunity to try on an outfit from Design for Living, and it was a departure from my usual style. The combination of a flower-printed button-up by Vivienne Westwood and a long black blazer by Yohji Yamamoto made me feel remarkably professional and put-together. As I admired myself in the mirror, I couldn't help but feel like an important person, someone who commanded attention and exuded confidence. The black wide-leg trousers by Yohji Yamamoto were a versatile staple that I instantly fell in love with. They provided a timeless elegance and effortlessly complemented the rest of the ensemble. The long black blazer hugged my body perfectly, accentuating my figure while maintaining an air of sophistication. Overall, the outfit from Design for Living surpassed my expectations, making me appreciate the artistry and craftsmanship behind these vintage pieces.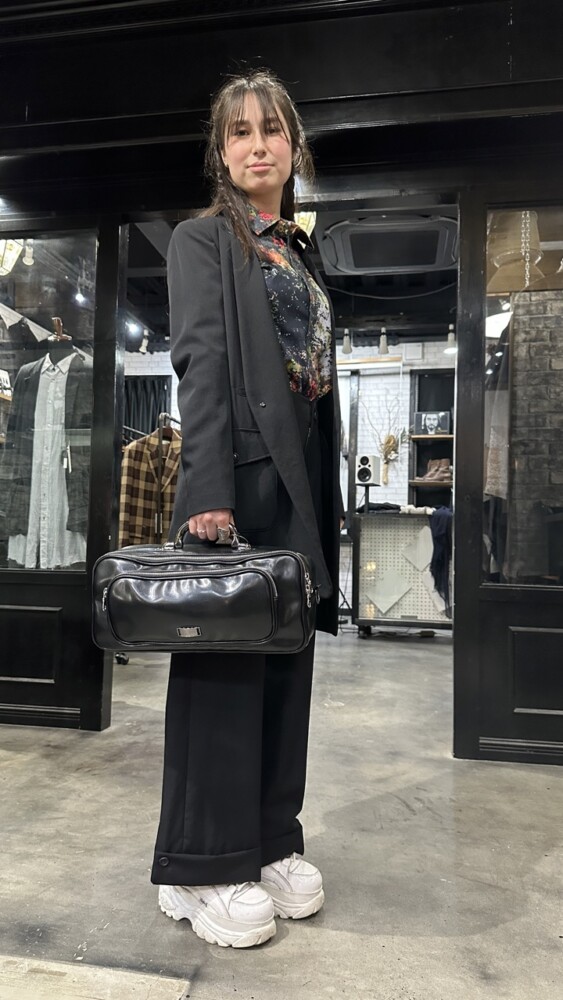 Outfit consisting of clothes from Design for Living:
Top: Flower-printed button up by Vivienne Westwood and long black blazer by Yohji Yamamoto
Bottom: Black wide leg trousers by Yohji Yamamoto
Accessories: Black leather purse by Jean Paul Gaultier
Traditional Work
In between "Design for Living" and "Agito vintage" you can find "Traditional Works", which buys and sells boots and leather shoes. "Traditional Works" handle around 150 pairs of boots and leather shoes that shine with craftsmanship. Including popular brands such as RedWing, Alden, Tricker's, Church's, SANDERS, Danner, Chippewa, EDWARD GREEN, CROCKETT&JONES, etc. They sell a wide range of items from work boots to leather shoes that can be used in the business scene.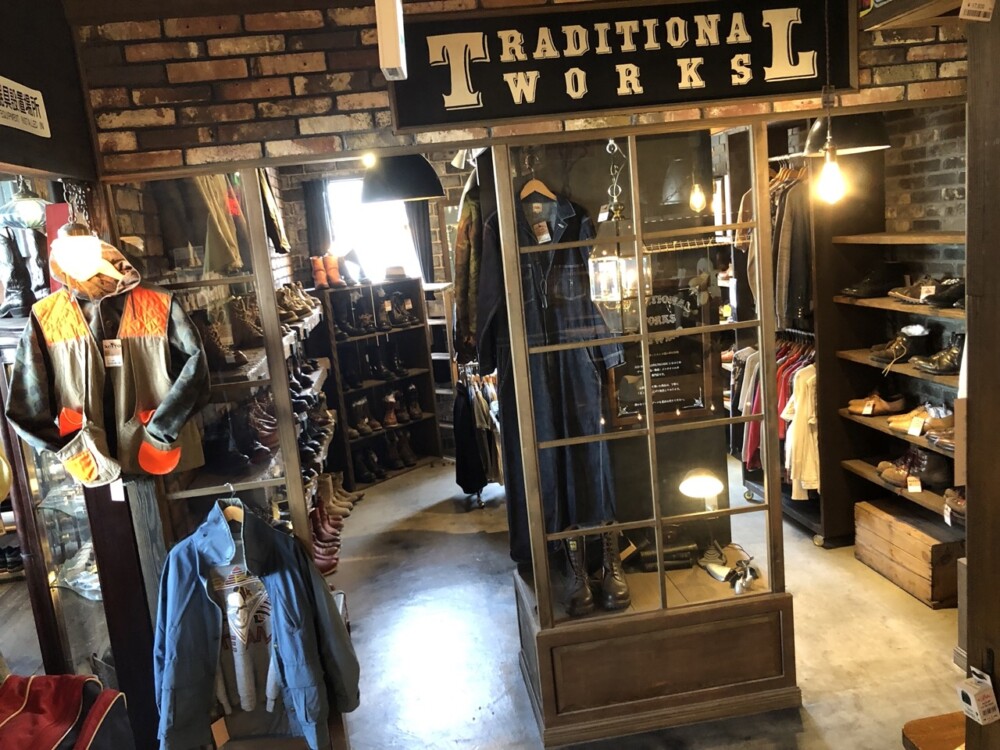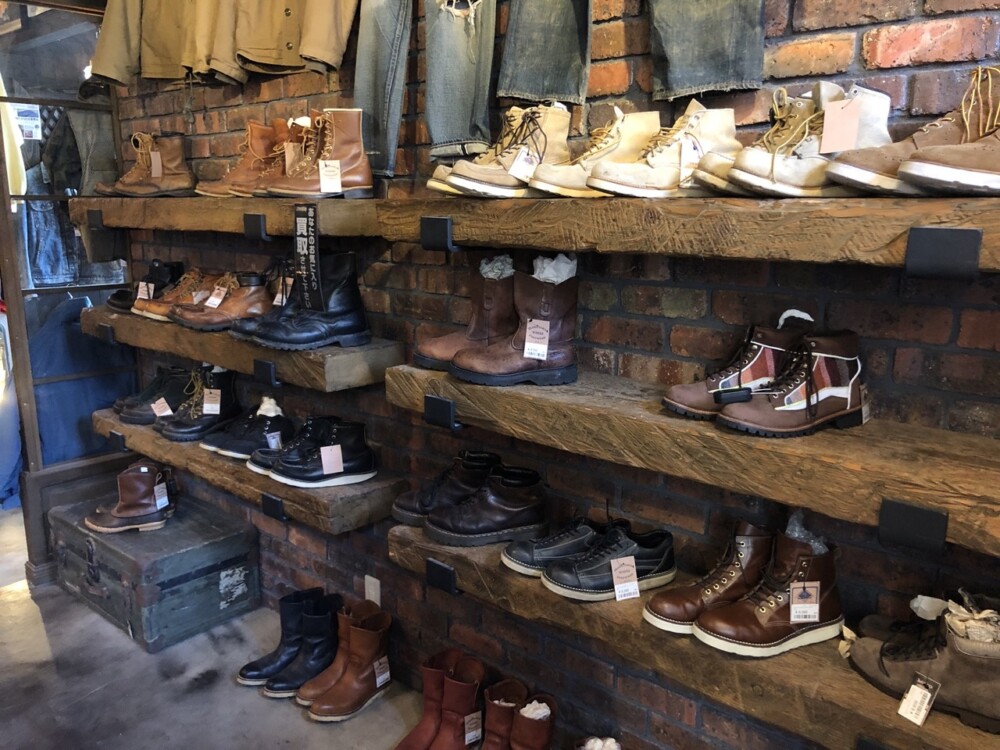 G-bridges
In the middle of the second floor is the shop "G-bridges" and "0330". "G-bridges" is a g-shock sales and purchase specialty store that has a wide range of products for collectors, such as current models, frogman, speed models, expensive limited rare models, street culture, artist collaborations, etc., as well as current models.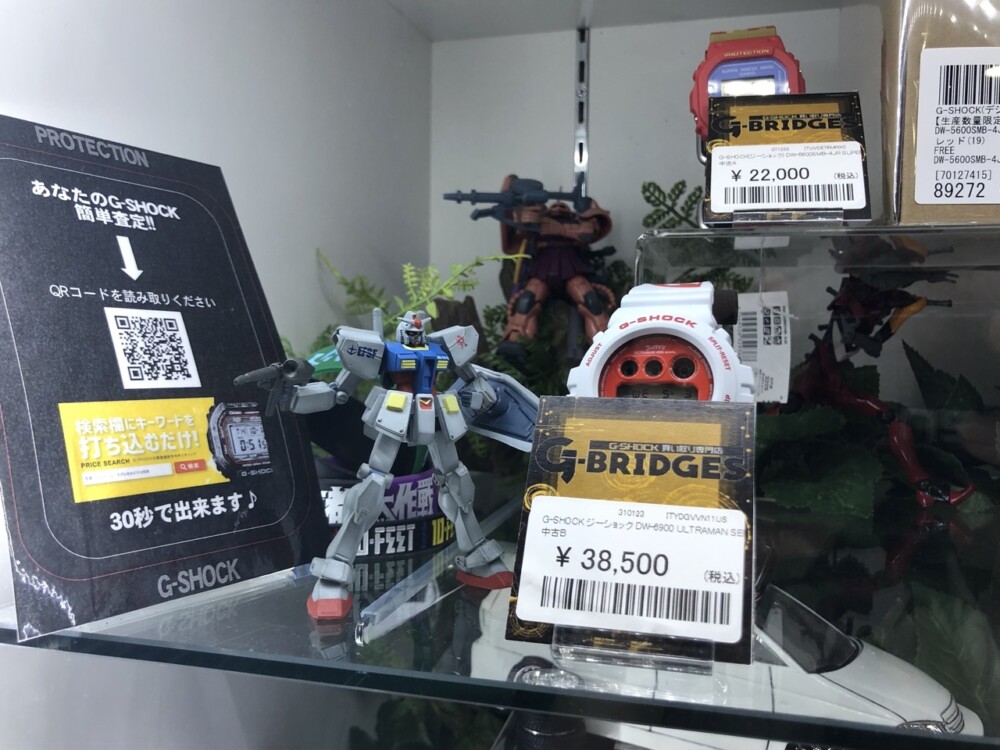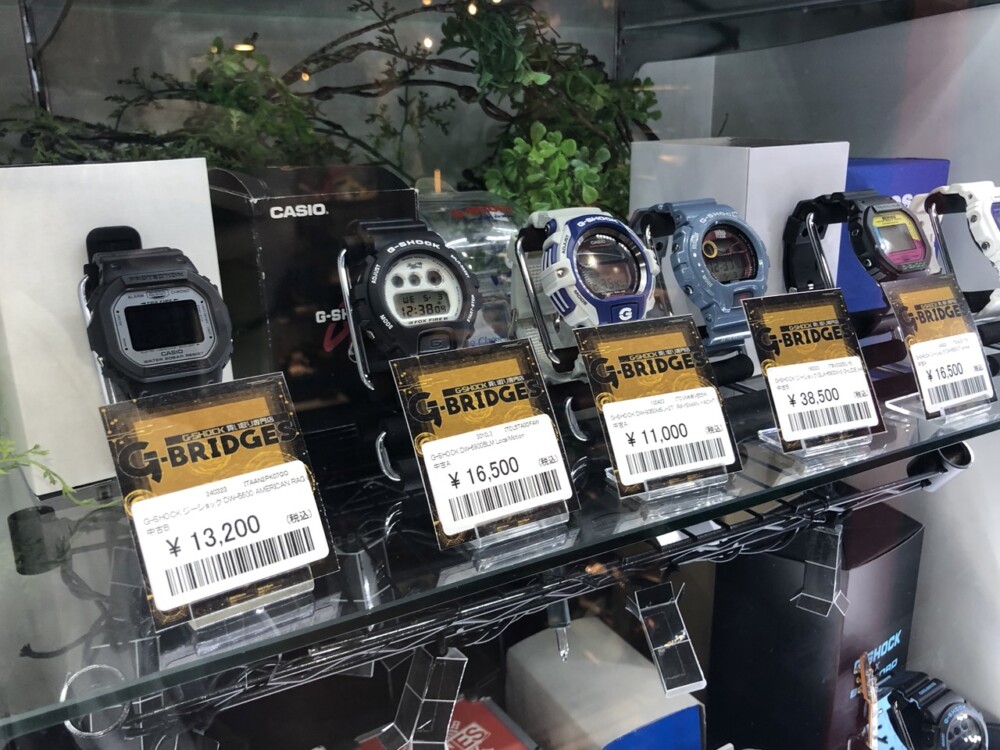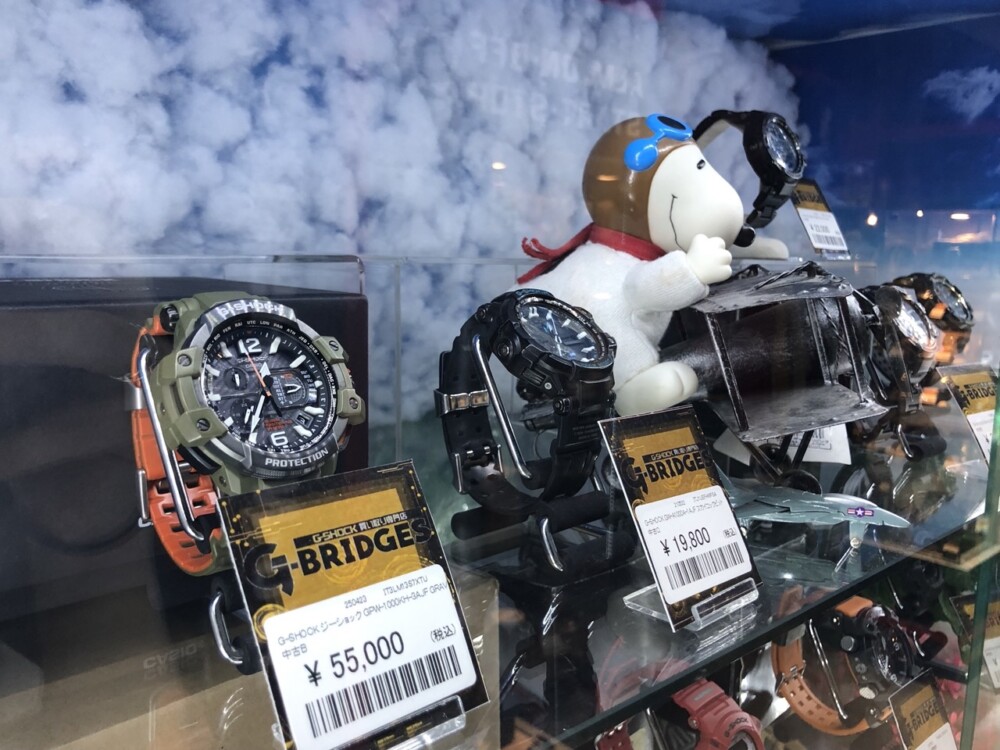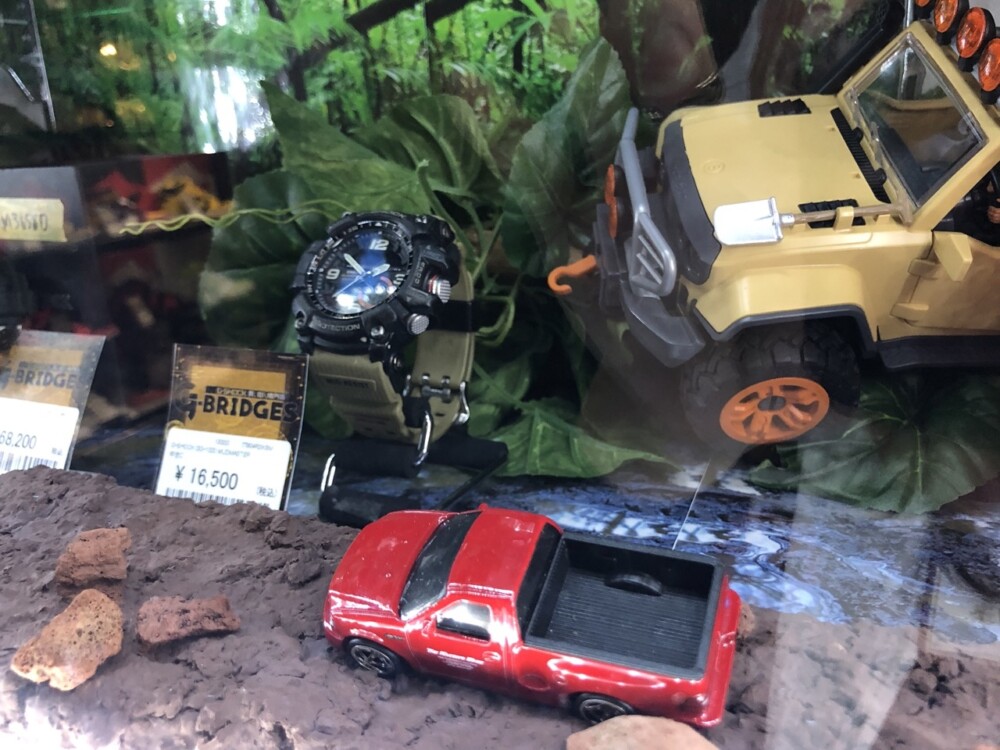 0330
"0330" is for customers who are not satisfied with ordinary clothes. The shop consists of high casual and mature items. They have the NEPENTHES series items such as Needles and ENGINEERED GARMENTS, popular Japanese brands such as KAPITAL and AURALEE, and well-established imported brands.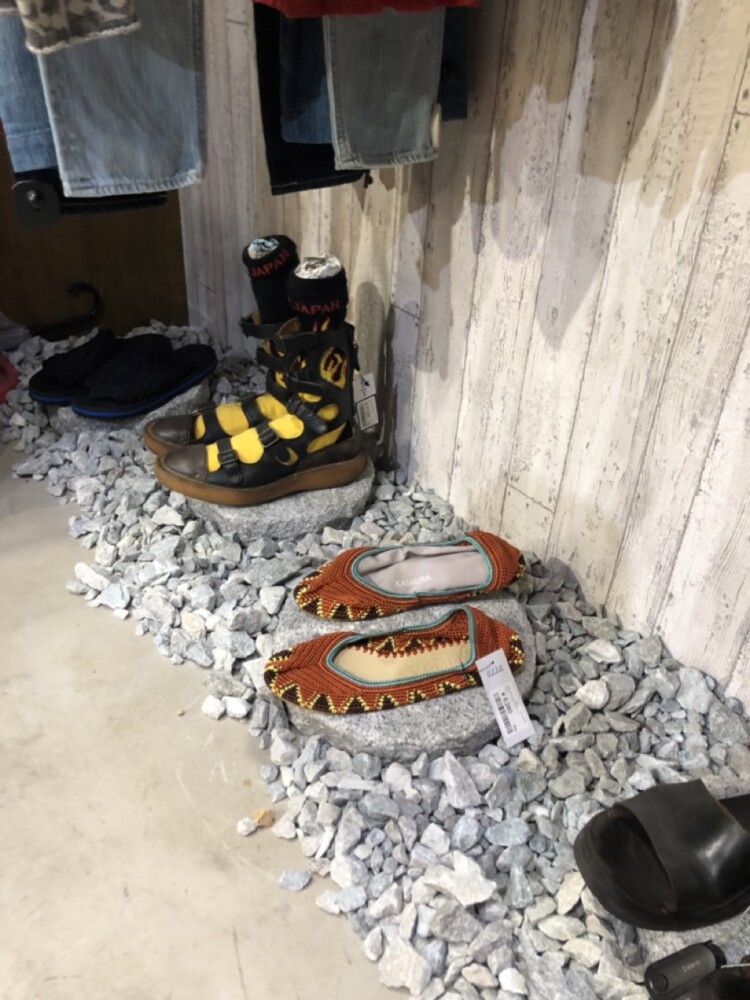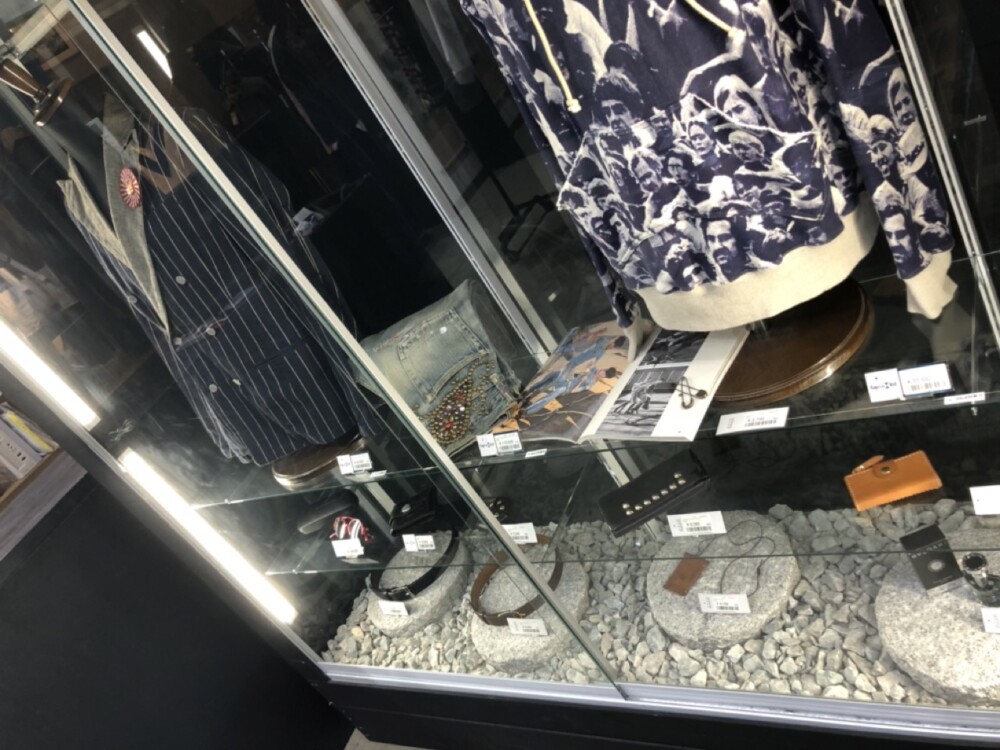 During my visit to 0330, I stumbled upon two remarkable pieces that caught my attention: a blue-white printed hoodie by KAPITAL and a pair of light blue rhinestoned jeans, also by KAPITAL. Although I wouldn't typically pair such statement pieces together, I couldn't resist including both in my outfit because they were simply too beautiful to pass up. The jeans exuded a nostalgic y2k aesthetic, instantly transporting me back to a time of edgy fashion trends. Meanwhile, the hoodie provided an unparalleled level of comfort, making it a perfect choice for daily wear. It was a delightful experience to discover these extraordinary items at 0330, enabling me to embrace my personal style in a way that was both daring and comfortable.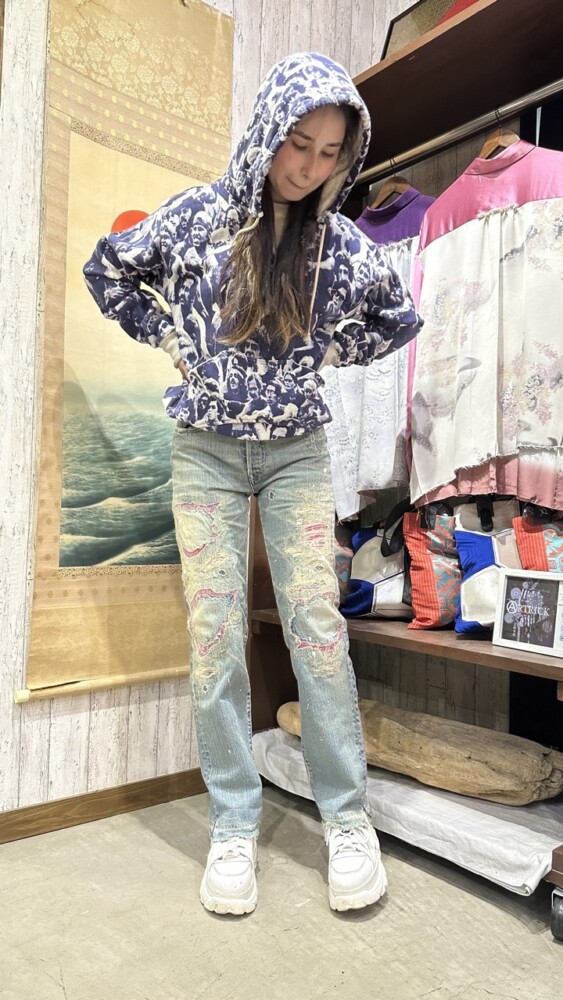 Outfit consisting of clothes from 0330:
Top: Blue-white printed hoodie up by Kaptal
Bottom: Light blue rhinestoned jeans by Kapital
M Old Vintage + high brand
Right beside the staircase on the second floor, you will come across a shop consisting of high-brand clothing from the 70's called "M Old Vintage + high brand". "M Old Vintage + high brand" is a luxurious space where old and new intersect. Here you can find many well-designed clothes and accessories.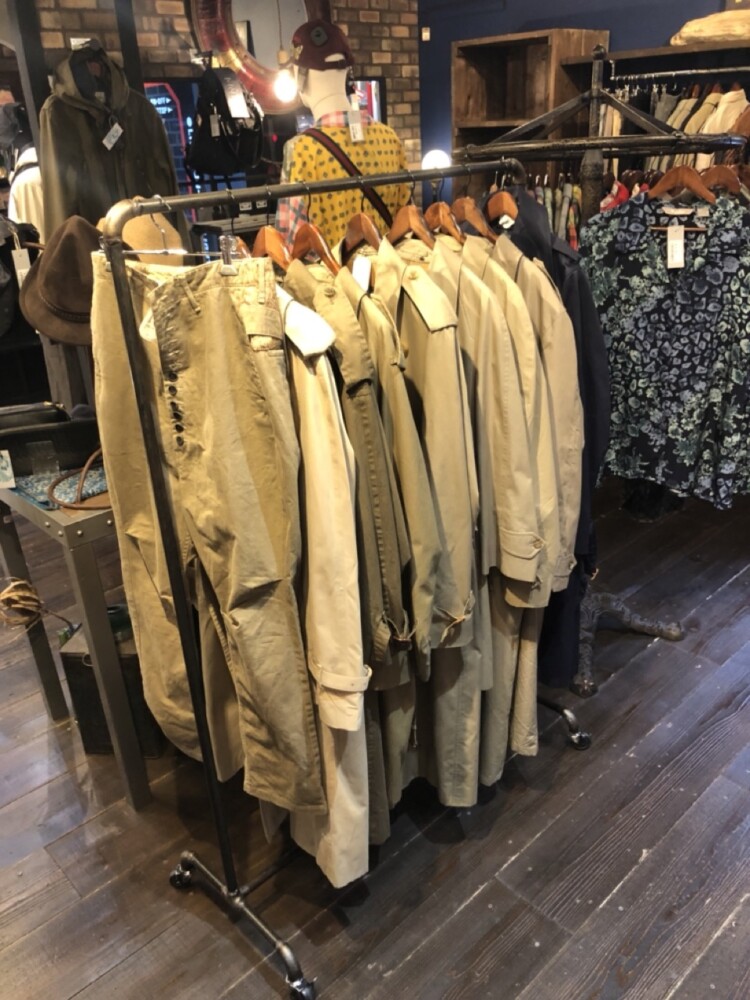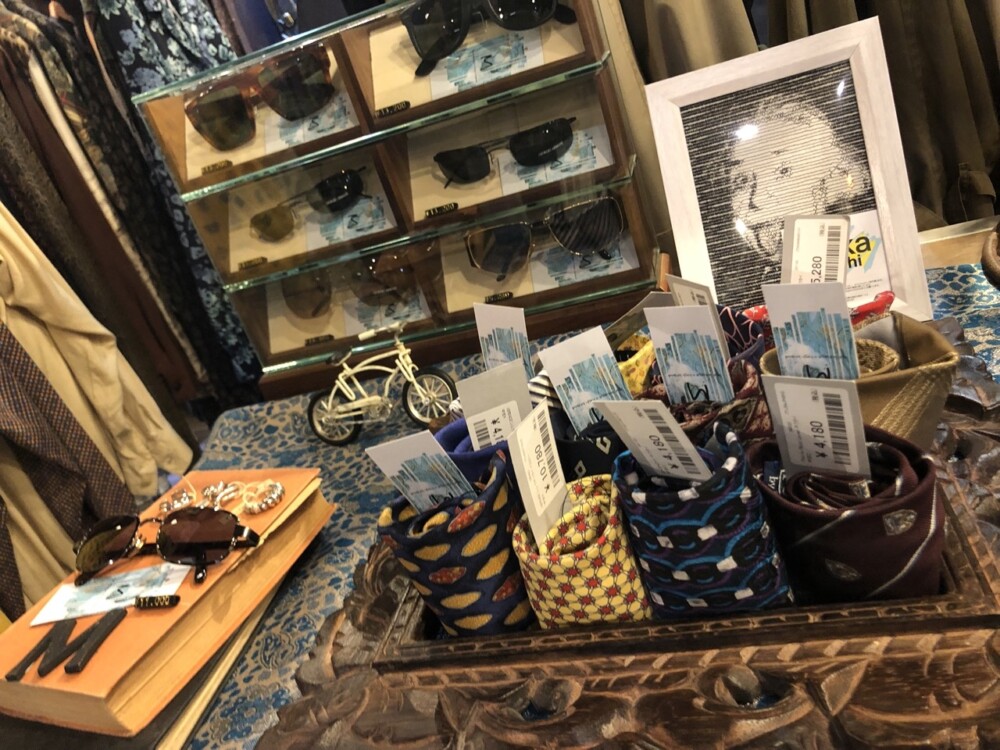 j
This is a look into my experience at Next 51. I hope you will come by and make your own experience at Next 51 and discover gems that fit your style:)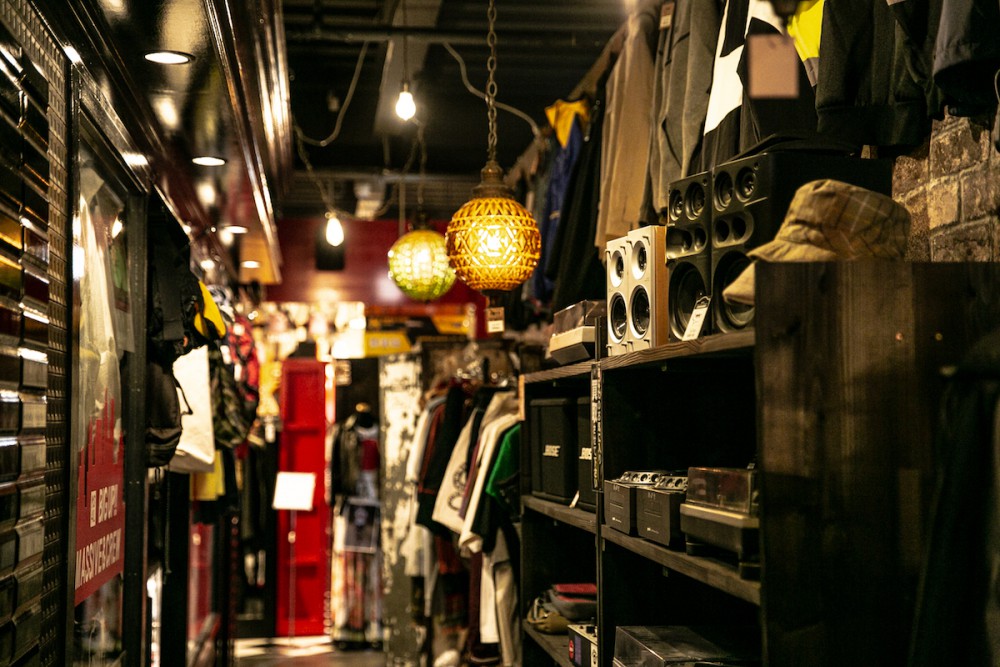 NEXT51 2F店内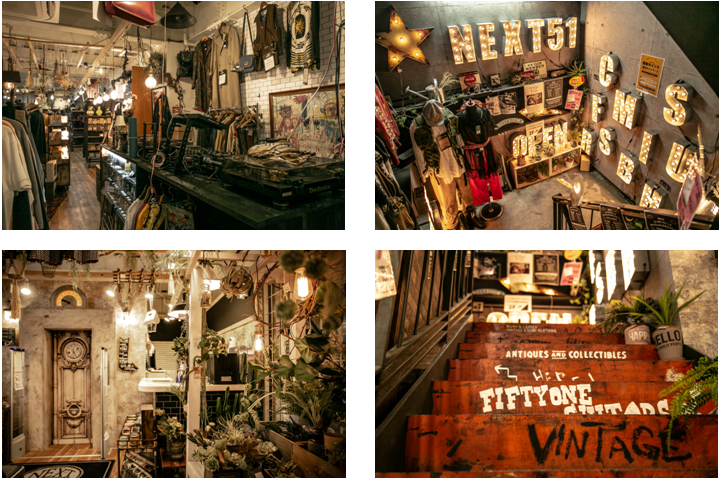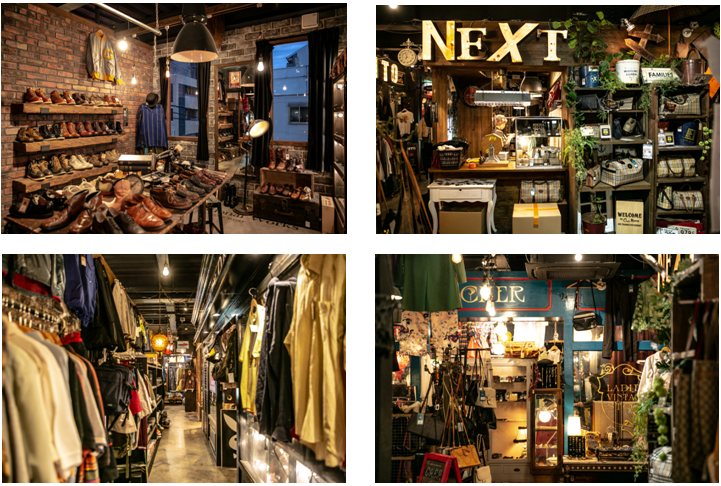 大阪駅から電車で約30分
難波から電車で約20分
天王寺から電車で約10分
三国ヶ丘駅から歩いて5分!
駐車場もお店の横に完備!!
JR阪和線/南海高野線 三国ヶ丘駅からお越しの方はこちらをご参考にお越しください。
※字幕をONにしていただくとよりわかりやすくご覧いただけます。
是非お越し下さいませ♪
AGITOの一覧記事
Archivesの一覧記事
CHER&SAPEURの一覧記事
G-BRIDGESの一覧記事
in shop BLOGの一覧記事
JAMNUTS STOREの一覧記事
OCEAN'S51の一覧記事
T.WORKSの一覧記事
THE MODEの一覧記事
イベント情報の一覧記事
メディア掲載情報一覧の一覧記事
未分類の一覧記事