2023.05.13 CHER&SAPEURin shop BLOGお知らせ
Let's style 4 gems from Lady's vintage shop Cher
Lady's vintage shop Cher
Today I found 4 gems from Lady's vintage shop Cher, and styled them with other pieces from the boutique. So let's get into it. Here are three different outfits with gems from Lady's vintage shop Cher:
1. Strawberry skirt
I stumbled upon the most adorable find: a skirt by Dolce & Gabbana that's so cute! Picture this: a black background adorned with vibrant red strawberries, lush green leaves, and delicate white strawberry flowers (you don't have to picture it. Just look at the picture;)). To cinch the waist, it features a red elastic band that adds a flattering touch. And let's not forget the black underskirt gracefully trimmed with black lace.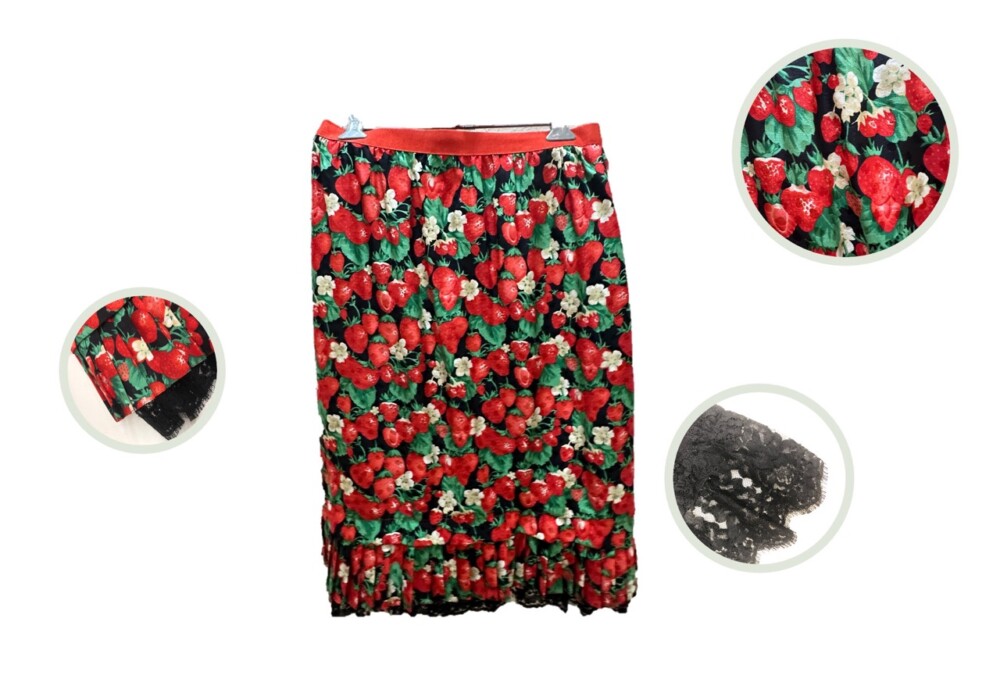 This skirt is an absolute showstopper, so I want to make it the star of my outfit. To achieve that, I'm opting for a simple and fresh look. Considering the dark tone of the skirt, I feel like lightening things up a bit. Hence, I'll be incorporating mostly white pieces into the ensemble. I'll pair the skirt with a lovely white lacy button-up shirt and an adorable white lacy apron. To add a touch of whimsy, I've chosen a spacious straw bag (yes, "straw"berry, get it? XD). To complete the look, I'll adorn my ears with stunning big gold earrings from Christian Dior.

Now, I'm all set for a delightful day at the strawberry field! I'll have to be extra careful not to get my pristine white button-up dirty. This ensemble, which I like to call "Summer Strawberry Picking," perfectly captures the essence of the season and the joy of indulging in nature's sweetest treasures.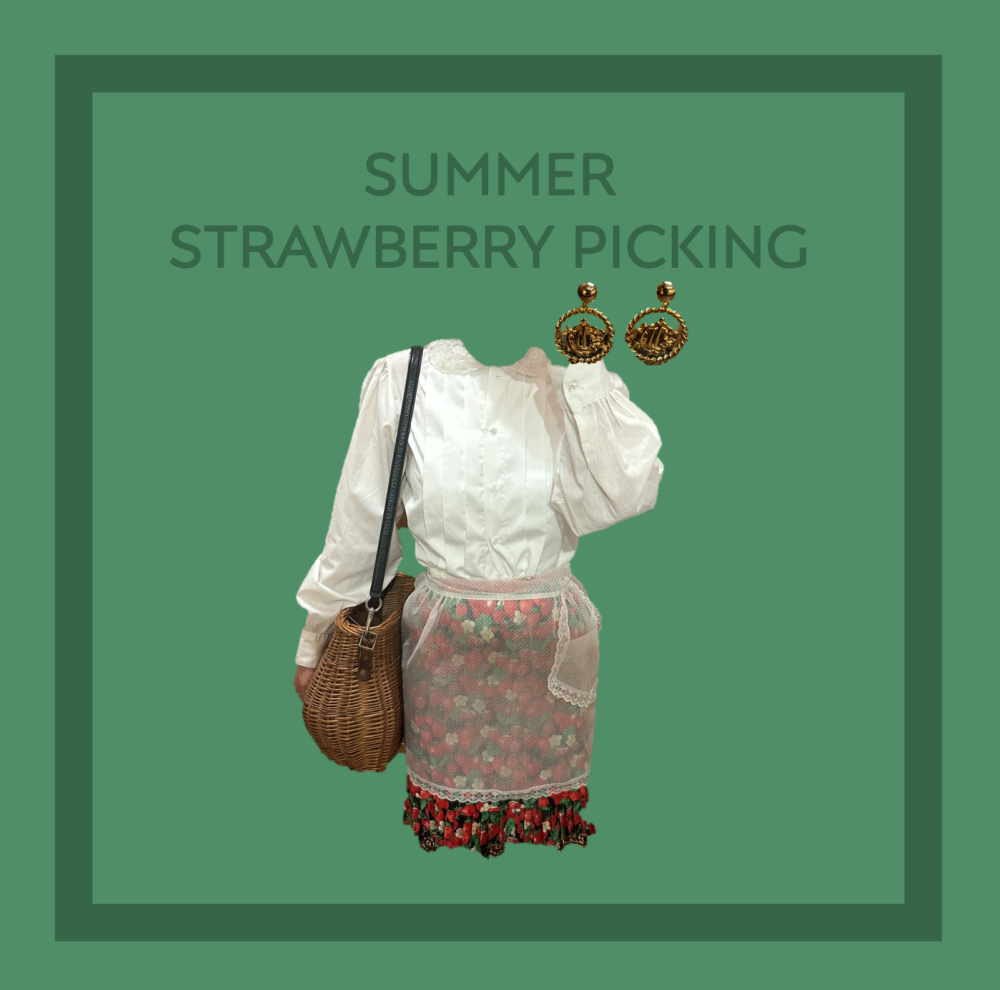 Outfit consisting of clothes from Lady's vintage shop Cher:
Top: White lacy button-up blouse
Bottom: Strawberry-printed midi skirt by Dolce & Gabbana
Accessories: White lacy apron, big straw bag, and gold earrings by Christian Dior
2. Denim jacket with embroidery
When I laid eyes on this denim jacket, it seemed like any other good find, but as I turned it around, my heart skipped a beat. The entire back was adorned with a breathtaking embroidery, depicting a harmonious family of bears coexisting with a charming clan of cats. Embroidery on clothing has always captured my heart, adding that special touch of uniqueness to each piece. It takes the joy of outfit creation to a whole new level. Crafted from a sturdy, thick denim, this jacket boasts a delightful boxy fit that flatters the body effortlessly.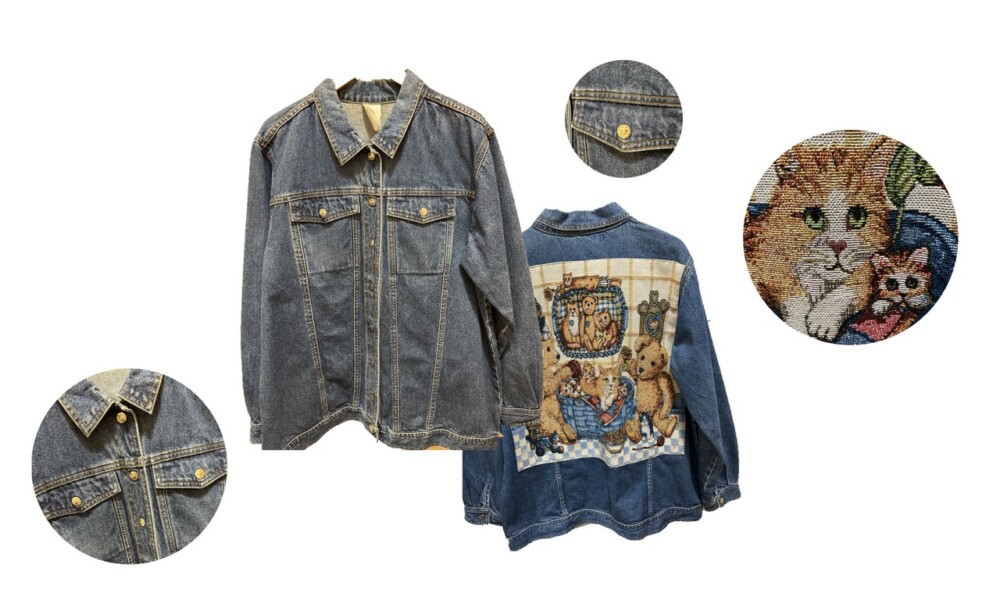 To complement the beige hues in the embroidery, I embarked on a quest to find the perfect top. Lo and behold, I stumbled upon an incredible sleeveless beige polo that complements the denim jacket flawlessly. During my delightful browsing session at Lady's vintage shop, Cher's remarkable Celine bag collection caught my eye. Among the treasures, I discovered a spacious beige Celine bag that instantly resonated with me. Its generous size adds a touch of nonchalant coolness to the ensemble, breaking away from the confines of traditional femininity.
Inspired by the iconic Canadian tuxedo sported by the likes of Justin Timberlake and Britney Spears, I set out to find the perfect jeans. My search led me to a remarkable pair of wide-leg Levi's jeans from the '70s. Once I slipped into them, I knew they were a must-have addition to any fashion lover's wardrobe. The fit was impeccable, embracing my silhouette with a timeless allure..

In the end, this ensemble tells a story of charming embroidery, versatile denim, and carefully curated pieces that come together to create a look that exudes effortless style and individuality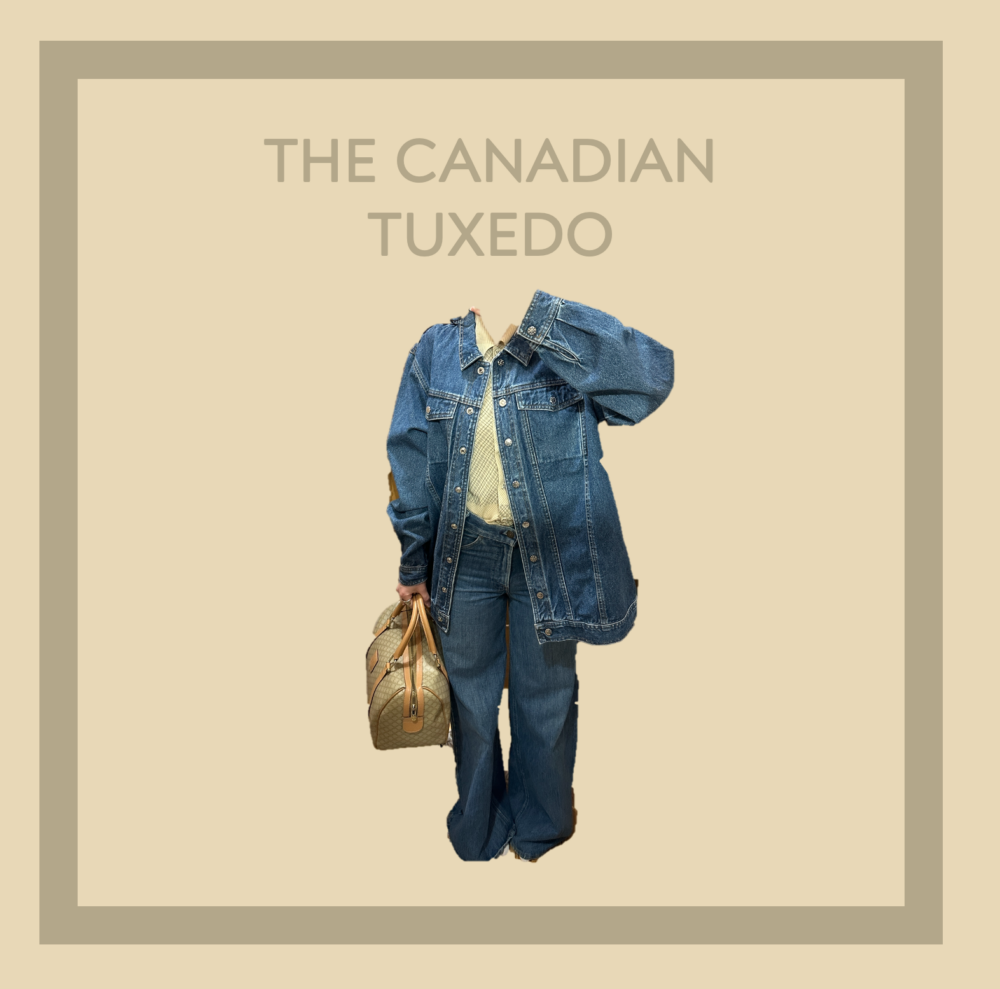 Outfit consisting of clothes from Lady's vintage shop Cher:

Top: Denim jacket with embroidery and beige no-sleeve polo
Bottom: Wide-leg jeans by Levi's
Accessories: Beige Celine bag
3. Baby pink robe
Here's my third gem: a darling baby pink robe designed by none other than Christian Dior. This robe is pure perfection, with its lovely fabric and delicate white lace adorning the chest area and hems.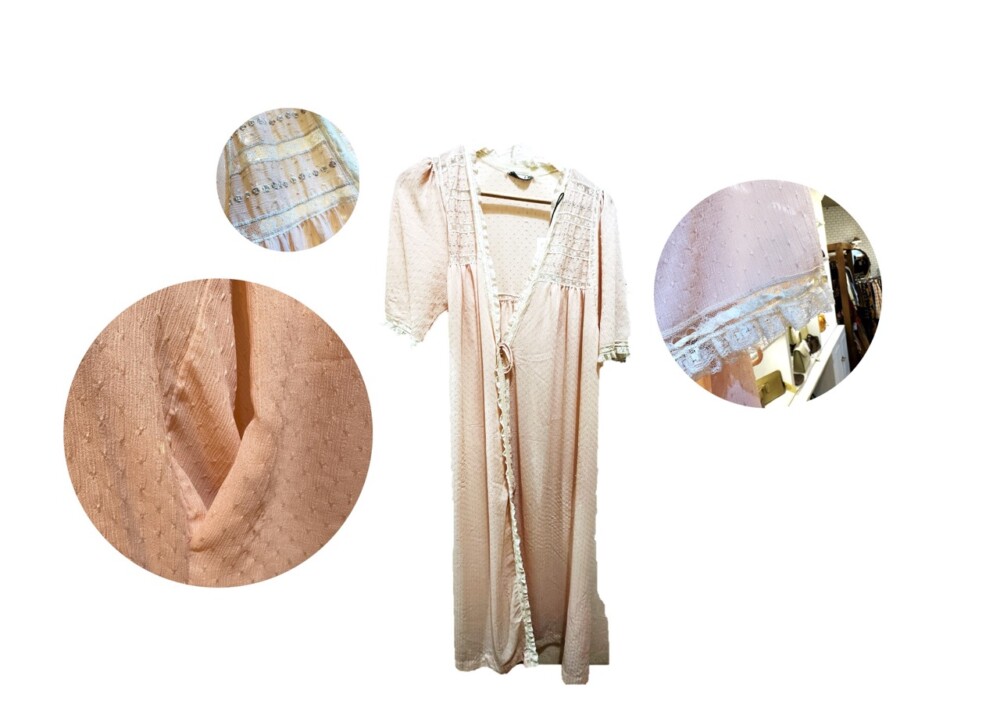 While the robe is traditionally meant for slumber, let's think outside the box and make it a fashion statement. The loose fit, intended for cozy nights, calls for a waist accentuation. Enter a stunning, long white skirt with the most exquisite gold and white lace hem. With this ensemble, I can't help but feel like a character from Bridgerton, perhaps a charming maid. But hey, that's the vibe I'm going for! To complete the look, I discovered a pink, yellow, and orange scarf that works wonders as a hair accessory, effortlessly tying together my "maid" outfit. And to add a touch of formality, I've chosen these elegant Sonia Rykiel pearl earrings.

Now, I'm all set to gracefully navigate my lady's requests, ready to be of service.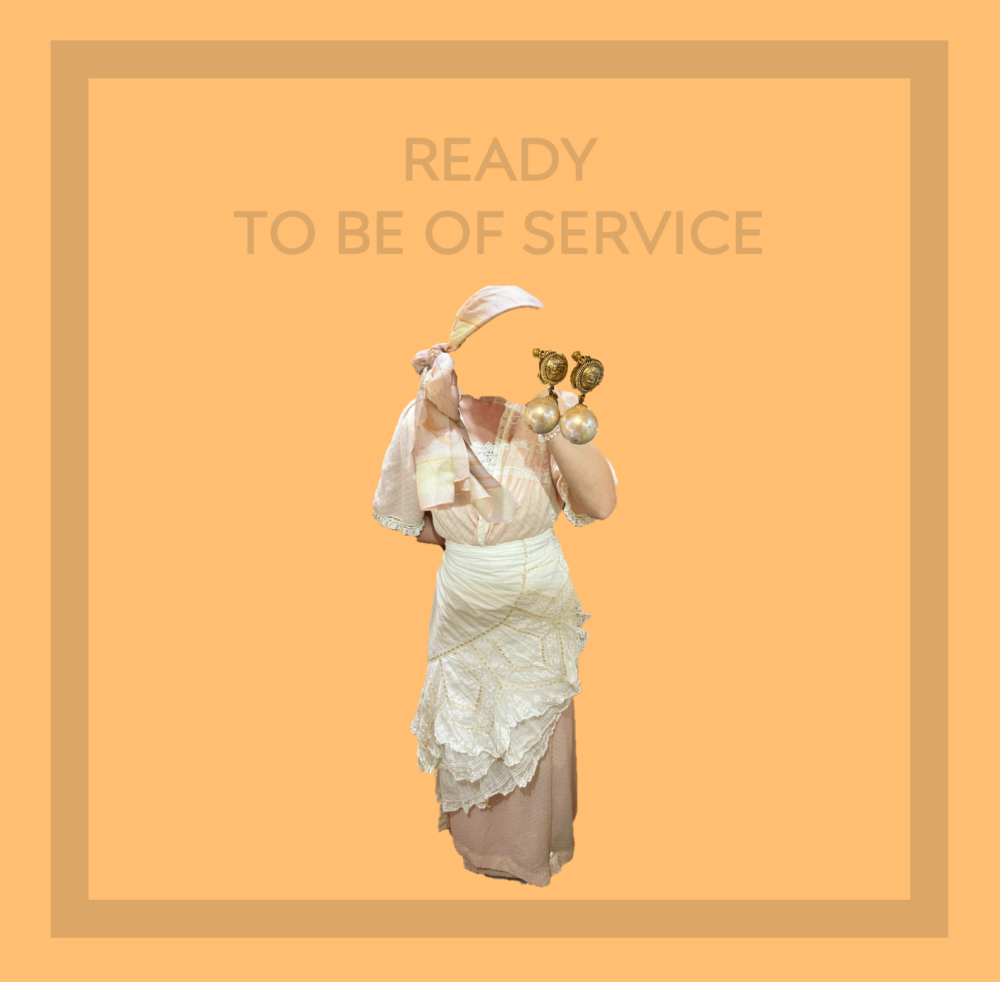 Outfit consisting of clothes from Lady's vintage shop Cher:
One-piece: Baby pink robe by Christian Dior
Bottom: Long white lacy skirt
Accessories: Pink, yellow, orange scarf by Balmain and pearl earrings by Sonia Rykie.
4. Western button-up
And last but definitely not least, let's talk about this charming western button-up. Picture a beige shirt adorned with delicate red stripes that add a touch of playfulness. The standout feature of this button-up is the adorable red stitched smile pocket, gracing each breast. It also boasts signature pointed yokes in a rich, deep red hue, as well as a stylishly wavy back yoke. The sleeves are adorned with the classic five-snap shotgun cuff, sporting round, gleaming gold snaps. The combination of the deep red color and those lovely snaps makes this piece truly eye-catching and fun.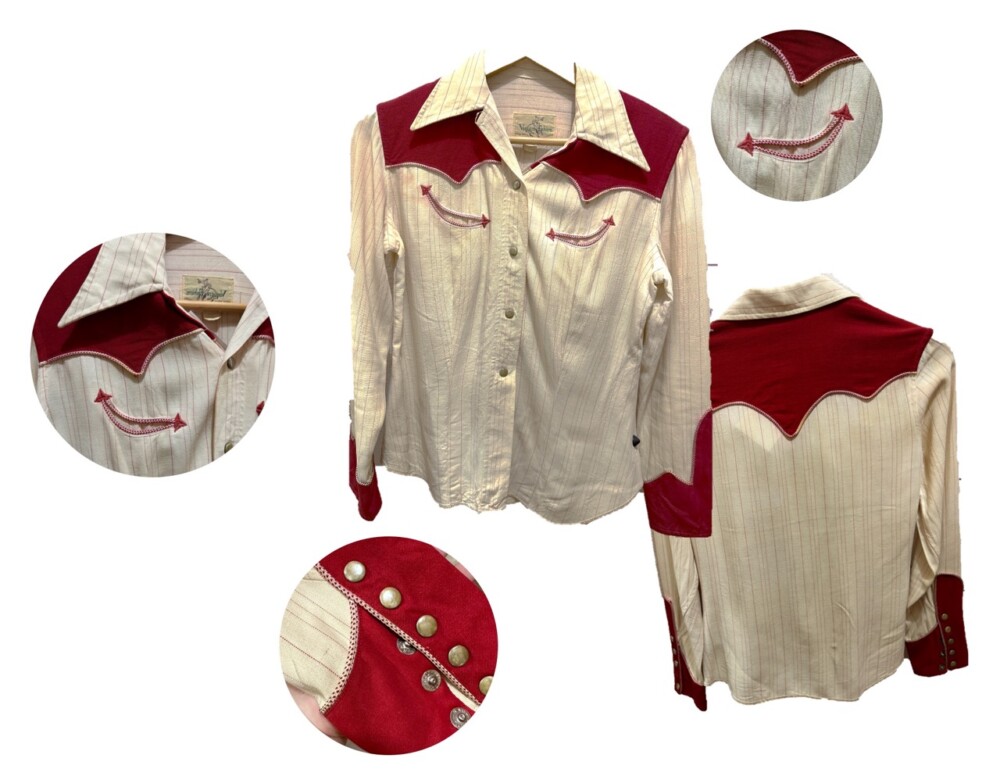 To complement the button-up, I paired it with a lovely blue denim midi skirt. What caught my attention were the four dazzling gold stars adorning each pocket—because who doesn't love pockets? The gold stars on the skirt beautifully tie in with the theme of the button-up, creating a seamless Western-inspired ensemble.
And what's a Western-inspired outfit without a pair of fabulous cowboy boots? In Lady's Vintage Shop Cher, I stumbled upon the perfect brown boots that exuded a classic Western charm. I've always believed that everyone should own a pair of cowboy boots—they add an extra touch of character to any look.
To tie the brown color scheme together, I found a stunning brown Celine handbag. It effortlessly completed the entire outfit, giving it a cohesive and polished appearance. But I still felt like I needed that one item to encompass the essence of the Western button-up, the blue denim skirt, and the gold stars. Luckily, I discovered a gorgeous Celine scarf right at the front of the shop—it was the missing piece.

Now, I was ready for a classic Western showdown, although I believe in "making love" instead of war. By that, I mean promoting peace and harmony. So, no guns for me.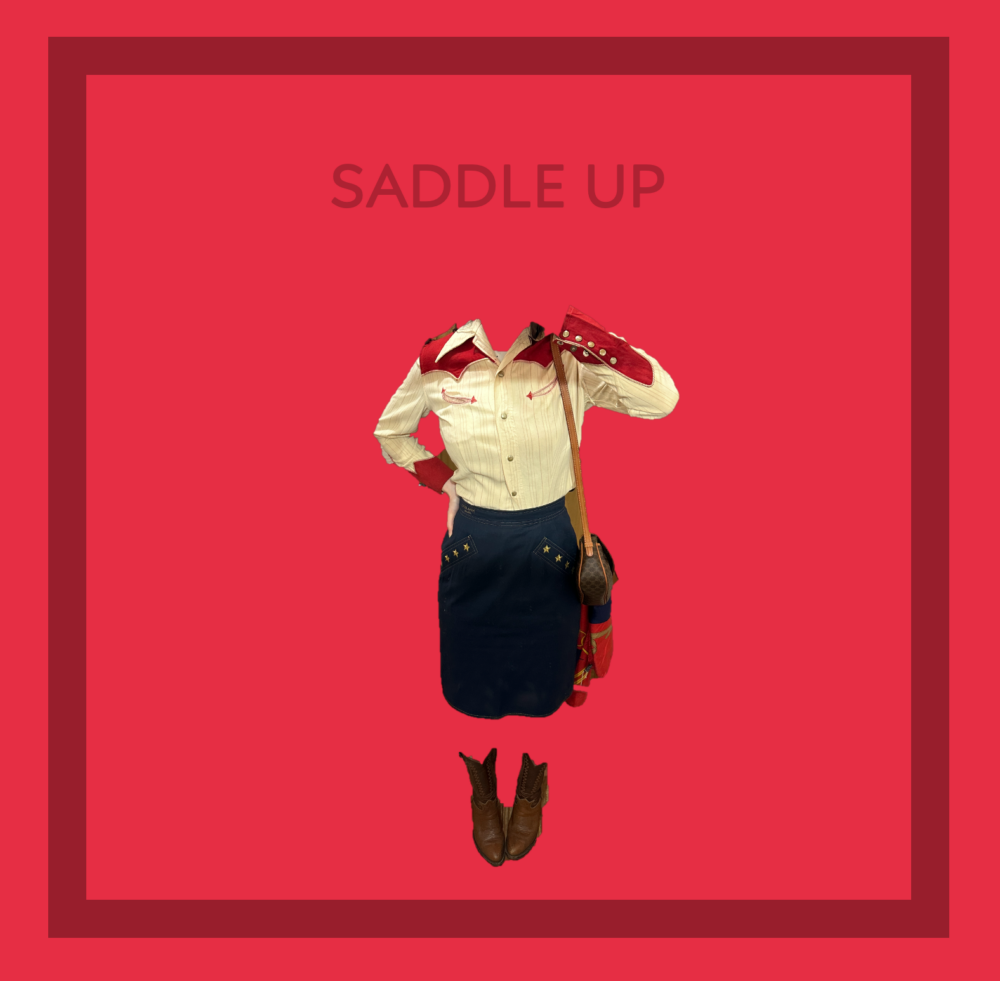 Outfit consisting of clothes from Lady's vintage shop Cher:
Top: Beige-red western button-up
Bottom: Blue denim skirt by Nina Ricci
Shoes: Cowboy boots by Tony Lama
Accessories: Brown handbag by Celine and red-blue-yellow scarf by Celine
Thank you for coming to my TED-talk about styling items from Lady's Vintage shop Cher. I hope I see you at the boutique:)
CHER&SAPEURの一覧記事
in shop BLOGの一覧記事
TOP NEWSの一覧記事
お知らせの一覧記事